samadi restaurant
Published: 03-11-2014 - Last Edited: 24-10-2022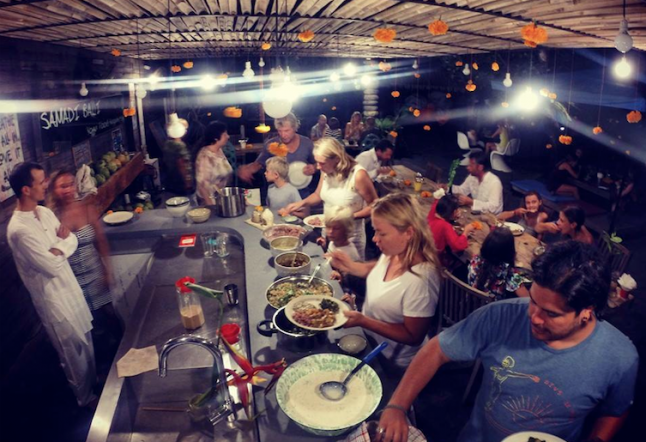 Samadi Restaurant is open daily for breakfast and lunch and is a completely vegetarian option in the Canggu area of Bali.
Samadi restaurant is in a garden patio overlooking its adjoining yoga studio, and is one of the prettiest places to hang out while eating tasty healthy food in the neighborhood. Samadi is an official Slow Food restaurant – which means that at least 75% of their ingredients are locally sourced, water materials are sustainably managed and a fair wage is paid to all staff. Almost all of their produce is organic – you can see them grow it in front of you in the garden next to the restaurant and even buy some at their bi-weekly Organic Farmer's Market.
With a mix of Asian and world cuisine, you'll find a good mix of raw, vegan and vegetarian dishes. Breakfast has a good selection of pancakes, gluten free Indian Dosa, several egg dishes, asian or western porridge as well as fruit salads enhanced with seeds and nuts. Lunch has a mix of cold soups, raw starters and a salad bar where you make your own from a lengthy list of ingredients. A wide selection of juices and smoothies with superfood add ons (has become ubiquitous in Bali health restaurants) are on hand, but the stand out is the Mexican Hot Chocolate – raw cacao with a bit of chili! Desserts are fresh and inventive – think home made raw sorbets that will leave you wondering if it's possible for something healthy to taste so good.
This is the perfect place to go for a bite to eat after yoga. You can hang out for hours, chat with the other patrons, read or taking advantage of the fast (for Bali!) wifi.
It is closed at dinner except for Wednesday movie nights and sporadic special dinners that let you enjoy the beautiful setting at night – check their Facebook page for information on special events.
For more info on Bali's best spots for the modern yogi STAY | SPA | PLAY | EAT | SHOP | YOGA – Download our ULTIMATE BALI GUIDE for free.
Read next >> Dayu's warung