roots
Published: 02-01-2018 - Last Edited: 15-11-2022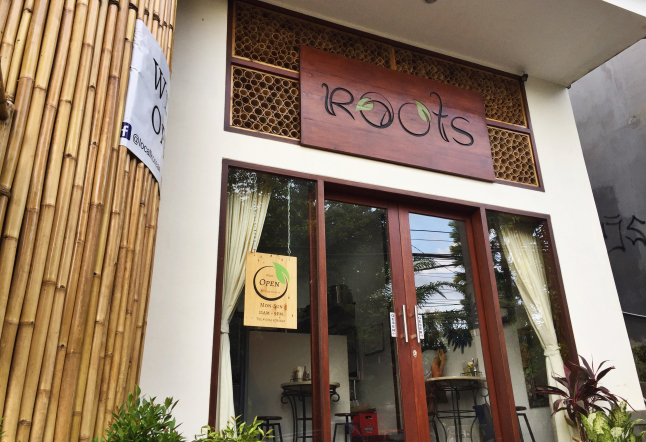 Located along Ubud's main road just outside of the city center, sits a must-do restaurant for your time in Bali. Expect an earthy, grounding vibe. Connect with loved ones over lunch or dinner in this open-air bamboo restaurant. If you love Korean food, you'll love Roots.
Founded in 2017 by Mee Gray, Roots brought a new flavor to town. As Korean-American, Mee often found herself having cravings for something home-cooked. Since there were no options available for her specific hunger, she put her background in Georgia's restaurant industry to good use and opened Roots.
Their tagline "unlabel yourself" accurately describes the vibe of the restaurant. It isn't Balinese. It isn't Korean. It isn't American. It just is. It's a place where everyone can come and just be who they are. Vegetarian, vegan, omnivores – they're all accepted regardless of what they do or do not eat. It's a community center and all are welcome at the table in Roots.
Roots serves organic vegan and vegetarian Korean foods using locally sourced, all natural ingredients. As such, the meals are bursting with bold flavors that leave your mouth watering. Mee works with local farmers to source her ingredients, while introducing them to new crops to grow purely for Roots. She's passionate about sustainability and giving back to the local community.
The Jap Chae featuring sweet potato noodles and stir fried, local vegetables is a delicious plate. Also consider trying, Roots Bibimbap. The dish includes seasoned rice, a variety of freshly prepared vegetables, mushrooms and an over-easy egg. Blend the bowl together for a healthy, flavorful dish.
Roots is more than simply a restaurant. It's a connector, a hub of activity in the community. You come as a stranger, but leave as a friend.
For more info on Bali's best spots for the modern yogi STAY | SPA | PLAY | EAT | SHOP | YOGA – Download our ULTIMATE BALI GUIDE for free.
Read next >> matcha cafe bali