roamers berlin
Published: 13-04-2015 - Last Edited: 12-08-2021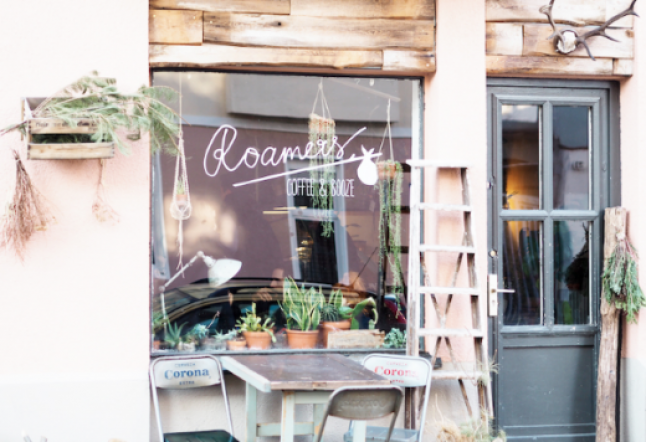 Venturing through Berlin on a Sunday early afternoon on the lookout for a place to eat can be quite a challenge since there are plenty of options to choose from which are all as much chosen by others aka full.
Arriving at Roamer's makes no exception, however, the ambience of the place fills you with tranquility straight away. It feels a little like traveling to Central America without the long-haul flight. Edward Sharpe's uplifting tune "Home" only adds up to that warm-hearted sensation. The cute little corner cafe in the less obvious end of Pannierstraße is furnished with loads of wood, school chairs and plants, especially cactuses of all sizes. Turns out, as the owner states in an interview with "Stil in Berlin" that the tables were built by her mother's partner and chairs have been supplied by her uncle's fabric hall. Generally speaking a lot of love for detail was poured into the concept of the place.
I might be missing an up and coming trend here in town, but I am still happily surprised to have alternative choices to regular or soymilk. Almond milk cappuccino it shall be. The avocado smoothie on the menu arose so much attention that it triggered quite an amusing dialogue with the waitress: "What's in the avocado smoothie?" "Are you asking whether there is avocado in the avocado smoothie?" After a laugh we figured out that of course there is more in it than just the fruit.
Down-to-earth fresh juices, meaning a selection of regional fruit (apples, pears, "¦) and no fancy selling points such as cold pressed or nutrients-contained (which is good, not to be gotten wrong, but also refreshing to just not get juice out of a bottle). If the sensation of traveling to the US doesn't hit you, than surely the cakes on display will bring you back to your grandmother's kitchen. Maybe not the vegan or low-carb options, if that is what you usually go for, but definitely describable as food for the soul, that's how yummy they looked. If you are fine with eating eggs, then trying one of their signature dishes such as eggs poached in spicy tomato sauce should be on your to-do-list.
Generally the way to go would probably just be in line with their website's motto:
"Don't hurry, don't worry. And be sure to smell the flowers along the way."

Hours: Tu – Fr 09:30 – 19 – Sat & Sun 10 – 20