ritual yoga | closed
Published: 18-02-2013 - Last Edited: 09-11-2022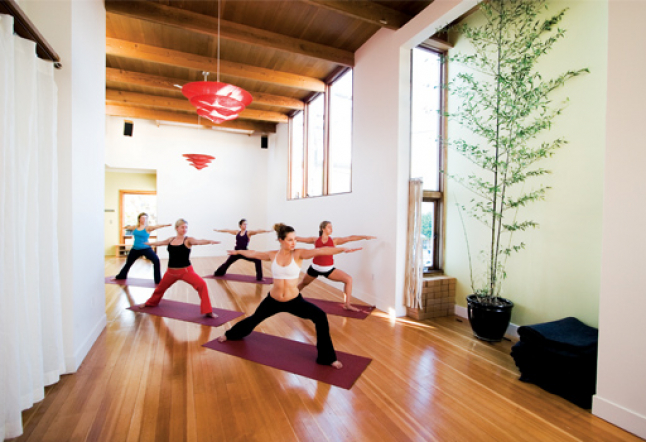 closed
It's a Friday evening in November when I am first introduced to an innovative and new studio in the Marina. Ritual Yoga is San Francisco's first and only donation-based yoga studio. As I ascend the red carpeted staircase to the second floor, I am immediately met by feelings of warmth and compassion. There is a very special spirit in this modern space, softly glowing with candlelight, and decorated with hanging lanterns and tall statuesque bamboo.
It is 6:30 on Friday night, and although this studio has only been open for five weeks, the class quickly fills up. As students fill in, founder Steve De Cosse greets each one by name, thanking them for taking the time to come to class tonight. As I lay down my mat, I am struck by the difference of this space. Not only is it unique and modern, with an I-Pod DJ for the evening's class, but I also haven't been met by the typical drop-in fee or question about class passes. Instead, students are simply asked to pay what they can afford, a suggested donation between $9 and $15.
As class begins, we enter into what Steve refers to as Fluid Power Vinyasa, something he picked up from Shiva Rae, where students use their bodies to move from a place of fluidity. Steve's class is invigorating. The room starts out at a balmy eighty degrees as students begin moving through a vigorous sequence of asanas. The flow from posture to posture is peppered with yoga philosophy. Steve speaks of the three gunas, and teaches the story of the monkey-God, Hanuman, as students move into the challenging Hanumanasana.
Even once class has ended, the bulk of the students stay on, drinking herbal tea and discussing the experience of the evening while the stereo continues to hum. A small library is available for students who linger after class. An outdoor patio contains a meditative space lined with bamboo plants and a soft, trickling fountain. It is clear that Steve's philosophy – inviting students to participate and offer what they can – creates a true sense of community. Through their donation, students begin to feel empowered to learn, grow, develop and transform in this place where all are welcome, no matter their income.
It is Steve's vision that donation-based studios will continue to expand in the Bay Area. He hopes that one day Bay Area teachers might come together to organize a community-based center where yoga teachers volunteer their time to offer free classes (including pre-natal sessions for moms and classes for the elderly) to those who cannot afford them.
Steve's vision is truly inspiring. As many of us see the rising costs of yoga classes, where one-time drop-in fees are sometimes upwards of $16, the question of accessibility arises. Through Ritual Yoga, Steve works to break down economic barriers, to build community, and to offer a spirit of sharing and compassion. During the holidays, when we begin to reflect on the spirit of giving, it is clear that Steve is truly giving the Bay Area community something special. As he offers classes through donation, he invites us all to explore for ourselves Fluid Power Vinyasa and to be transformed.
Read next >> 7th heaven purchased by namaste rockridge