rita flora now closed
Published: 25-04-2011 - Last Edited: 09-10-2022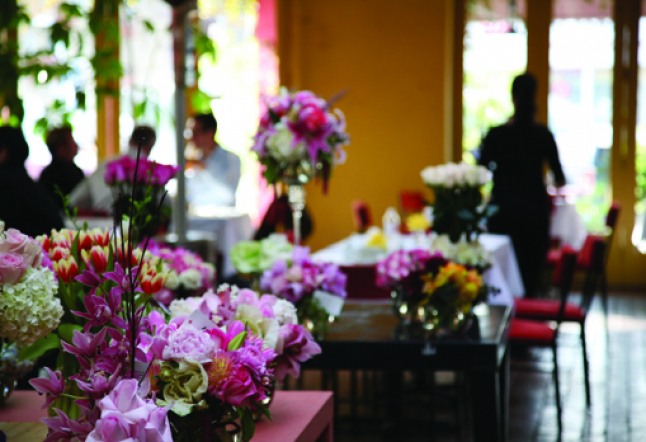 now closed
Rita Azur has a passion for all that is romantic and sensual; food, flowers, and fragrance. In 1997, she created Rita Flora, a florist shop known for its quality roses, and elegant arrangements. Rita's offering to the community expanded into a true Los Angeles treasure : a place where not only the aesthetic eye and romantic heart are fed, but the appetite as well. Oh the appetite indeed!
It is a most unique ambiance, a restaurant that shares its space with a flower shop. One can (and really should) opt to sit in the open and airy, gazebo-like space which hosts both the flower shop and half of the restaurant, and enjoy a gourmet meal amidst tables, and counters, and buckets of aromatic roses, vibrant wildflowers, and exquisite exotic breeds of orchid. The atmosphere is soothing and expansive with natural light pouring through long windows and a skylight to raise your, and the flowers, spirits. The patronage is hip (a favorite watering hole for Hollywood heavy-weights), and the menu is chic, but the interior is so serene and, well, novel, one feels a little transported- into perhaps a more tame kind of Fellini film. I wanted to be wearing a flowing scarf and sharing my delicious wine with a handsome thing called Marcello. For those coming just for the food""reason enough, there is a separate space exclusive to the restaurant.
The cuisine is mainly Los Angeles Mediterrean; featuring healthy and light renditions of Paninis, soups, and antipasti dishes. There are a plethora of inspiring vegetarian options; a personal favorite being the Gorgonzola, Radicchio and Honey Walnut creation. All dishes are artfully plated and expertly balanced in flavor. Rita's kitchen uses the highest quality organic ingredients, and like her selection of flowers, the menu changes with the season to provide the patron the most fresh and fitting food for your soul.
To start, the kitchen bakes delicious Italian bread served with first press olive oil to die for. Follow this by a rich and exotic glass of wine chosen from the extensive by the glass offerings. Many of the wines are organic, and all hand picked by Rita to appeal to a range of passions and palettes. For entrée or main dish the menu offers an array of tastes from elegantly prepared seared Ahi, luscious Mediterranean salads, and adventurous tapas plates. The desserts are decadent, ranging from classic cheesecakes and tiramisu's, to an impressive list of home made gelatos. Rita Flora only uses hormone free, organic milk to prepare any dish.
For such an elegant atmosphere and savory food, the price is wholly affordable and a perfect swooning ground for the ever nearing Valentines Day. Enjoy the synergistic pairing of flowers and food; it's a gem of a dinning experience.
Read next >> x'otik kitchen | now closed