retreat yourself festival
Published: 19-09-2017 - Last Edited: 09-11-2022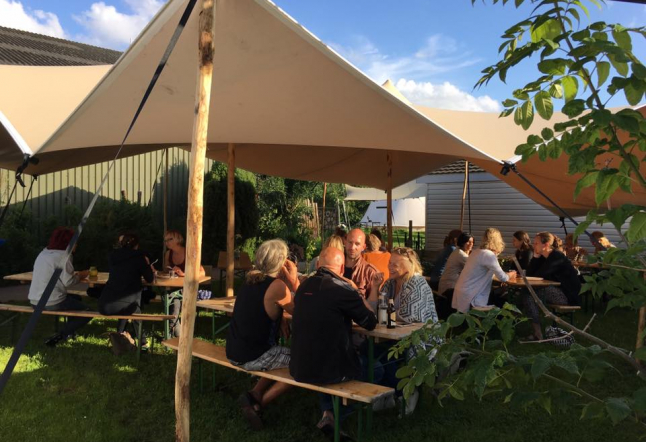 Since 2012 Willemien van Egmond organizes days, weekends and even whole holidays for yoga, mindfulness, and healthy cooking. She selects the most beautiful places in the Netherlands, Ibiza, and Morocco where guests can relax and feel at ease. With Retreat Yourself she likes to inspire people to take the time to think about what makes them happy. And to support them finding their passion and start living their dream life.
To celebrate the 5-year anniversary of Retreat Yourself she planned a festival on August 19th, 2017.This Retreat Yourself Festival was held at the unique location Zwier de Vrijhaven, near Amsterdam (the Netherlands). I was delighted to visit the festival on Saturday, but there was even the option to stay for the weekend, creating your own retreat!
The whole day was a beautiful experience. There were participants from all over the country and the atmosphere was very positive and relaxed. Great yoga classes to join, like yin yoga, Five Elements Yoga, creative Vinyasa classes and a Yoga Trance Dance at the end of the day. Classes were taught in a brand new studio, a warehouse and on SUP-boards in the water (Vinkeveense Plassen). Both relaxing and fun! There was a great selection of inspirational lectures and workshops about breathing, Ayurveda, Mindfulness, Tarot, Food your Mood, Living a Barefoot life and PRI (Past Reality Integration). And some amazing food stands served super delicious meals and healthy snacks. So colorful and nicely decorated, almost too pretty to eat!
This festival has this magical touch of a one-day retreat. Afterward I felt completely refreshed, restored and glowing from all the inspirational and healthy activities in this beautiful natural surrounding. Due to the success of this first edition, Willemien is about to organize the festival next year again. So be sure you won't miss it!
Read next >> kundalini festival sydney