retreat center north bali coast
Published: 04-06-2013 - Last Edited: 12-08-2021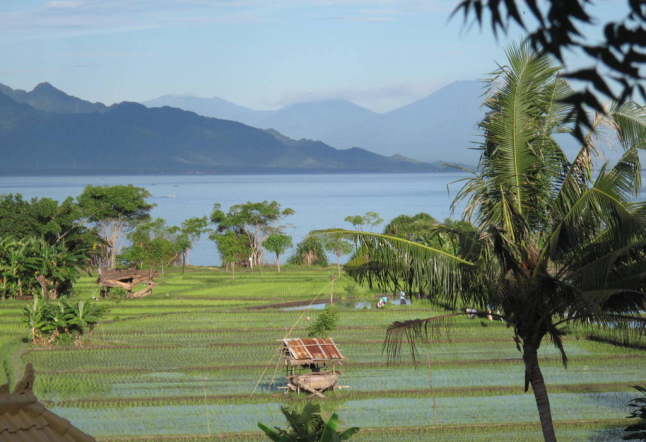 The first time I drove my motorbike to the end of the road at UME ANYAR PENINSULA, North Bali coast I stumbled across a hidden paradise, literally! A bungalow compound comprised of a few wooden huts with a restaurant, in deep sleep. The place was not being operated but was in a perfect location for a RETREAT CENTER !
The whole compound (7400 square meters) has been leased for the past 30 years. The place is still "at the end of the world" surrounded by rice fields and fruit trees (Mango orchard) 300m from the BEACH.
A YOGA SHALA was built on the top of the hill overlooking the coast line and the rice fields, the protected national forest and the volcanoes.
Soon after the first groups (Yoga teacher trainings and body work classes) came to do their trainings.
Teachers and participants alike do not want to leave the day the course finishes. It is the perfect spot to practice, to find peace.
Now in 2013 the Retreat has 7 rooms, sleeps 12 people plus a teacher's bungalow. It has a beautiful Yoga Shala, a dining Bale and a professional kitchen (with vegetarian and non-vegetarian cooks). The usual cuisine is fresh, organic vegetables, salads and tropical fruits from the local market.
A complete breakfast with bread, fruit, Balinese cakes, Balinese coffee, Indonesian Tea is offered and if requested, egg.
For lunch and dinner they either serve vegetarian meals or additional fresh fish or chicken.
Afternoon break offers fruit, tea, coffee and Balinese cakes.
All buildings are built from local material (wood, Bamboo and bricks) and recycled iron wood (Ulin) from Sulawesi, it's the perfect place to practice yoga in Bali.
Teaching in this wonderful enhancing space generates gratitude towards having come across this hidden paradise. People from all walks of life merge into Yoga Classes with no pretention or social roles, just simply "moving", breathing and absorbing the wonderful nature surrounding the place.
The "Mystic Motion" movement class takes you right into the center of your being, shedding off any social roles to connect with happiness, the joy of moving, the way you move and being the way you are.
Centering in this moment, in this perfect moment; observing impermanence.
The Retreat Center "SHANTI LOKA" is 20 minutes west of Lovina and 5 minutes from SERIRIT a town with all facilities on the North Coast of Bali.
For more info on Bali's best spots for the modern yogi STAY | SPA | PLAY | EAT | SHOP | YOGA – Download our ULTIMATE BALI GUIDE for free.