rasalila
Published: 18-09-2017 - Last Edited: 29-08-2022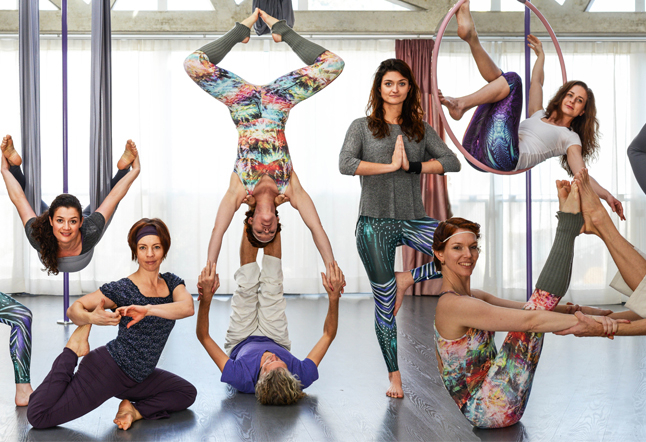 Rasalila is a unique yoga and dance studio, home to sisters Floortje and Willemijn Laan; two driven and spontaneous entrepreneurs who are passionate about elegant exercise.
The studio offers different styles of classes including aerial yoga, acroyoga and pole dancing, and if that's not enough, you can dip your toes in belly dance, Caribbean dance, tantra, sensual or Yoni yoga as well!
Here at Rasalila, you can truly step out of your comfort zone and learn new practices while working on your strength, balance, and flexibility.
The atmosphere of the space and the enthusiasm of its skilled teachers are what make this studio so comfortable to explore, learn and play. When you enter the space, the host always welcomes you with a nice chat and a funny joke to keep things light. While waiting for the upcoming class, you can chill out in the hallway with a cup of tea, read a magazine, or shop for new stunning yoga pants.
On Monday evenings, an all-levels AcroYoga class is a favorite. This class is taught by both Esther Hartog and guest teachers, such as Arjan Oosterwaard or Alina Tuluceanu.
These spirited and supportive teachers have endless patience and can explain even the most complicated duo postures and flows with ease. When they introduce a new acro move, it's easy to be intimidated by the difficulty, but their leadership works miracles and before you know it you are a natural pro! Apart from the brilliant teachers, the students who come out to learn provide a supportive and light-hearted atmosphere that makes the experience even more enjoyable.
Tess van der Putten, the aerial yoga and restorative class instructor, does a great job explaining her choreography (as you can't always see the teacher while hanging in the fabric.) She provides functional corrections and fills the room with calming music to keep stress levels down. This flying yoga practice is the perfect way to both stretch your body and relax your mind. To add, the studio also offers classes in aerialhoop and aerial hammock play.
The schedule at Rasalila changes from time to time, meaning there is no shortage of new ways to explore! The studio also organizes evening events for the community, such as Kirtan and burlesque shows.
Check it out yourself and you will be surprised!