prasad
Published: 01-06-2019 - Last Edited: 11-10-2022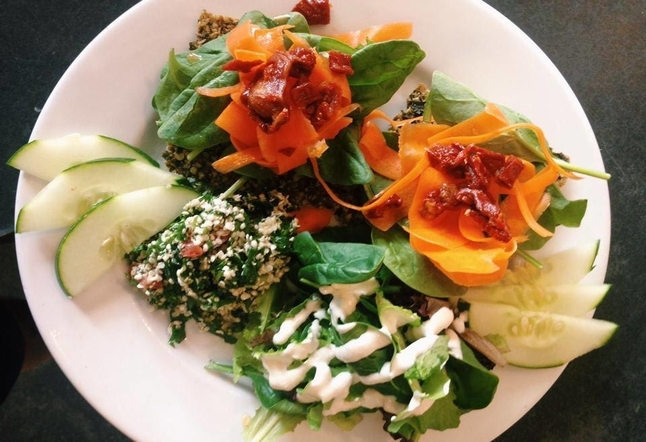 Passing through downtown Portland craving something delicious? Nestled between the Pearl district and downtown Burnside is Prasad, a delicious unique vegan restaurant. Whether you are in the mood for a nice smoothie or eager to try a new zucchini pad thai, Prasad has many delicious options to burst your tastebuds.
Prasad is a small cafe situated inside the Yoga Pearl studio. Nutrition is at the heart of this cafe, everything in the menu is organic, gluten-free and vegan.
When entering the cafe, the decor takes you to a new world of relaxation with a running fountain, modern wood tables, and outdoor sitting to enjoy some fresh air. What makes this vegan cafe special is that they put all efforts to give back to their community by working together with local businesses. Prasad is completely locally sourced – their coffee beans, their vegetables, and even desserts, which takes the sustainibility of this business to the next level.
If you are a big on brekkies, try one of their fresh squeezed ginger shots, juices, or tempeh scrambles, and when looking for a heartier lunch meal, their Dragon Bowl with steamed sea vegetables, avocados, cabbage, beans, and garlic tahini sauce could end up being your favorite dish. They specialize in bowls based on quinoa or red rice, packed with veggies, healthy fats such as avocado, and vegan proteins in a shape of black beans. 
Whether you want to refuel after yoga or looking for a copious lunch, Prasad is an amazing destination for eaters who want healthy choices. If you want to feel good and be inspired by what you eat, look no further than Prasad.
Read next >> MC Yogi and DJ Drez Inspire Portland