Yoga Resource
Published: 04-06-2012 - Last Edited: 09-11-2022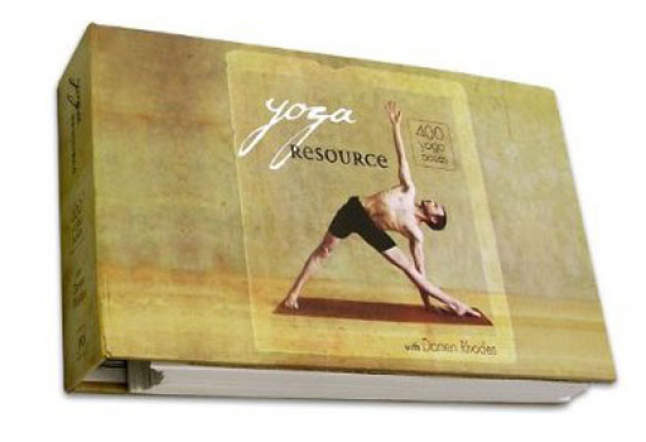 Locate, identify and be inspired
Tucson-based hatha yoga teacher, Darren Rhodes is internationally known for not only mastering all 350 poses in the Anusara syllabus, but also for being photographed in each. To learn the nuances of each pose, he spent hours studying photographs of B. K. S. Iyengar. Rhodes' new book Yoga Resource is designed to inspire and help students quickly locate and identify poses through a collection of 400 photos.
Each full-sized photo""one per page""captures Rhodes in the final form of the asana on an empty background. The beautiful, clean shots reveal Rhodes' inspiring balance of grace and precision. Through high-quality design and photography, Yoga Resource is more than a reference""it is a work of art.
The 400 poses featured in the Yoga Resource are organized into six categories. Each category is accessible via easy-to-use tabs and includes a visual index with thumbnail photos to help students efficiently locate the poses.
For example, bhujapidasana""you may know that it's an arm balance but may not know the final form. With Yoga Resource, you can easily flip to the arm balances tab and view thumbnail images of all the arm balances on a single page spread. At a glance, it's easy to quickly locate the pose, then turn to the associated page, and view the full-sized photograph.
For yoga teachers, Yoga Resource is a terrific tool for creating class sequences. Using the tel images on category indexes, it's easy to see recurring shapes and which poses compliment each other.
Sanskrit names, English translations, and pronunciation cues accompany each pose. A full index lists all 400 poses in alphabetical order with the associated page number for each. The unique hybrid hardcover and wire binding allows Yoga Resource to lie flat as you practice and protects the tabs and pages.
Whether you are a yoga teacher, seasoned practitioner or new student, Yoga Resource will make a beautiful and informative addition to your library.
Read next >> maraica