one spa at shutters on the beach
Published: 27-07-2011 - Last Edited: 17-11-2022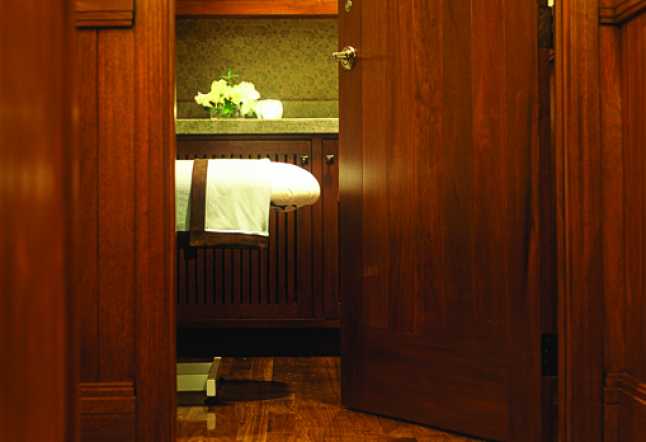 genuine deep-sea relaxation
Upon entering One Spa, you would be forgiven for feeling like you had just boarded a ship. At the foot of the Santa Monica sands, a stone's throw from its parent hotel, Shutters on The Beach, One spa is designed with a nautical extreme. Replete with sunken-ship, smoky glass in the lounge, porthole windows in the treatment rooms, dark hardwood decking and fathoms of sea shells, the stage is set for some genuine deep-sea relaxation.
Apart from its maritime design, One Spa's best-known feature is the man that helms the ship: Danish-born Ole Henriksen is the famed facialist whose products have received worldwide acclaim for a skincare approach based on simplicity. By combining high-grade, botanical extracts and fruit acids with natural skin therapies, Henriksen's goal is to stimulate, renew and hydrate the skin by using the most natural methods possible. Unfortunately for me, Henriksen, who is apparently booked months in advance, was not available to give me a facial himself, but his excellently trained staff were….well….excellent.
From the lounge, I was led into the changing room, then through the gym in my robe (that path being the one small design flaw) into a soothingly lit treatment room. Before I slipped beneath the sheets, I was given the unique opportunity to select my own combination of facial treatments.
On the menu were such appropriately sea-related sobriquets as "Beach Buff," "Sea You Soon" and "Beach Baby." I opted for a concoction of stimulating, draining, exfoliating, massaging and extraction. I also wanted to try some of Ole Henriksen's heralded products like his Apricot cleansing lotion and the blackberry enzyme mask.
Little did I know what treat was to follow – though a few might associate the experience of pulsating, beeping machines with something a little less relaxing. Little suction cups were attached to my face, pulsing and gripping, while they drained the lymphatic system. Then there was the electric sound wave therapy, which was meant to stimulate the muscle, steam therapy for oxygenation, and the Vichy Face mister for hydration. However, despite all of One Spa's innovative equipment, they have clearly not forgotten the importance of the human touch by way of the therapist's gentle, soothing, yet powerful hands.
During that blissful hour at One Spa, as my polluted pours were extracted and my skin stimulated, firmed, oxygenated and hydrated—I felt cleaned, pressed and folded to the highest of standards. Although the beeping and pulsating rung in my ears as my newly purified faced resurfaced from the hold, my skin not only shone with professional precision, but I also felt deeply relaxed enough to contemplate playing the brave mariner and take the rest of the day off to enjoy the calming waters of the hotel pool.
Read next >> Spa Vitale