one palm
Published: 20-08-2013 - Last Edited: 15-11-2022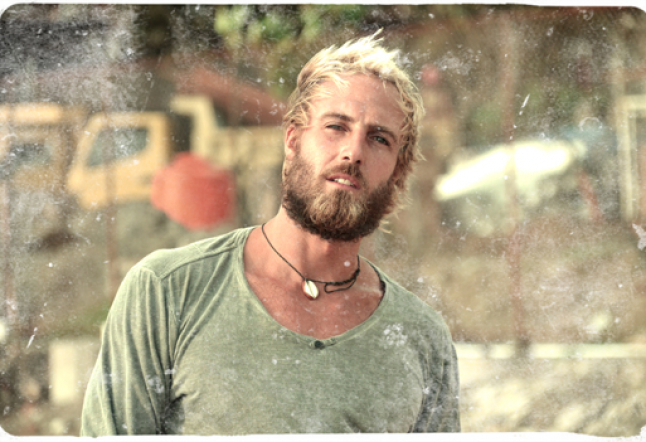 When Dominic Kuehni travels around the world, he doesn't just take in the sights. For him, these voyages are sources of inspiration, not only for his clothing line, but for his life. Kuehni started ONEPALM two years ago, after he worked as an area manager for an international sports brand. He wanted to create a casual yet stylish clothing line for people who embrace his lifestyle. And a huge part of his life and inspiration for his life is surfing, which has taken him to locations like Sumbawa, Australia, French Polynesia, and more. Currently, he lives in both Bali and Switzerland with his wife and daughter.
"Once understanding the different background of the people you deal with it is so much easier to understand and interact with them, says Kuehni. "It is so important to get out of your own box." While ONEPALM is a one-man show, Kuehni stills find time in between designing, shooting the photos and creating the catalogue to visit the factory during production and work with distribution for sales. "I know the place where I produce. I go there almost everyday, see the employees, take care of them, and know that the working conditions are fair," Kuehni states. "I don't mind to pay more money for a production, to be able to pay the sewers a salary that allows them to make a good living."
Single-handedly running his own line has proven to be beneficial to Kuehni, as he is able to work off a single inspiration to create and produce the clothing in his line. "ONEPALM's fuel is my soul. No marketing plan, no investors, no shareholders and no turn over goals to reach. Just pure love and compassion." He mainly uses rayon cotton and works with different dying effects on his fabric. He cites what he sees on the streets and in natures in his travels as his inspiration and he wears his sample product before he begins production.
Another big inspiration for him is yoga, which he practices on a daily basis, and he believes that his natural designs will appeal to his fellow yogis. "Yoga gave me so much," says Kuehni. "I hope to give back to any Yogi who wears my stuff on or off the mat." You can purchase ONEPALM clothing at onepalm.ch, at several shops in Switzerland, and also at Kuehni's favourite shop in Bali, the Bali Boat Shop in Seminyak.
If you were looking for a cool man's tee shirt, you have come to the right place. 
Read next >> Fizzy Lizzy Sparkling Juice