nood food
Published: 29-06-2015 - Last Edited: 16-11-2022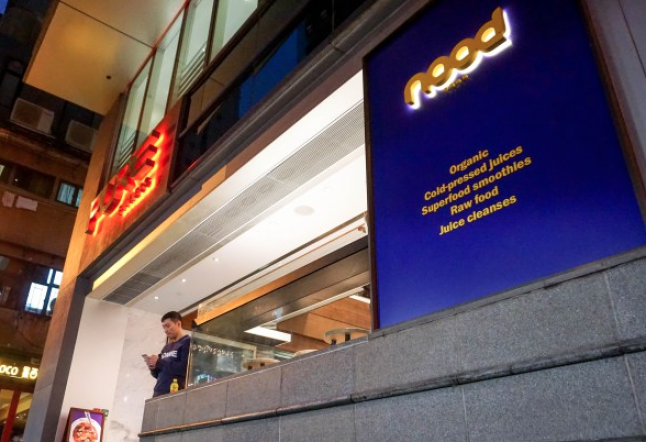 Nood Food has been around since mid-2013 and has now spread to many of the different Pure Yoga and gym locations around Hong Kong. Offering everything from grab-and-go fridges with organic cold-pressed juices, sandwiches and salads, juice bars that serves up smoothies and then of course the flagship location in Soho where you can find a raw cold salad bar alongside some hot items and where you can also dine-in.
As if being in a gym setting already doesn't make you feel healthy enough, the food will for sure! Aimed to reach gym junkies passing by for a healthy snack before taking the stairs up to the gym or a refuelling meal after a workout, a lot of people have found their way here anyway even if they're not going to the gym.
Raw food chef Moy has created all the cold dishes, superfood smoothies and juice blends, and truly believe sthat we are what we eat. He strips down food and serves it in the purest form with no additives or preservatives and uses as much as organic produce sourced locally as possible.
The location and fast service makes it super easy to grab healthy food on the go. It doesn't get more convenient then this to be healthy.
The raw salad bar, where you can combine different kinds of salads in a take away box, makes the combinations endless so it never gets tiring. Same goes for the choices of smoothies and juices, so coming here several times a week won't be a problem. Nood also has a variety of other products, gluten-free, vegan and raw food options.
The quinoa burrito is overflowing with kale (kale lovers take note!) and the pre-packed salads have the dressing on the side to keep them fresh. All products have a nutrition label attached which makes it super easy to see what is really in there and keep calories in check if that's what you're after.
I'm loving the beetroot juice I-candy and the Thai coconut water bottled in their own kitchen is one of the best in Hong Kong. Not to mention the Goji Blush smoothie and the coconut yoghurt with raw granola for breakfast on the go! If you're looking for the latest health trends, a wide variety and a place you can get something for any meal, this is your place!
Read next >> polaris