nite spa
Published: 07-07-2011 - Last Edited: 08-11-2022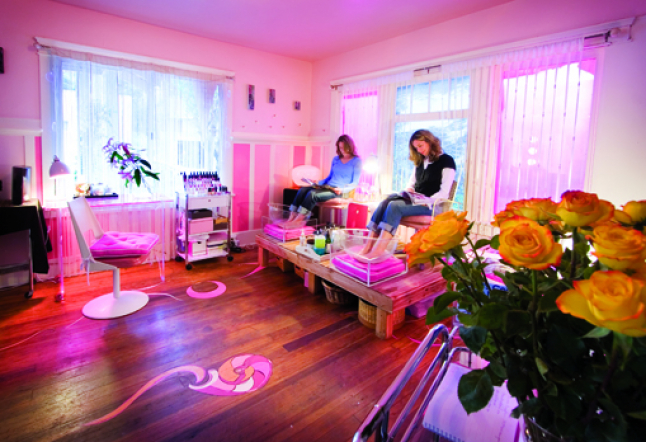 The people who stand to benefit most from a spa visit – the overworked, the family-frazzled, the flat-out fried – are naturally too busy to book treatments during the day. Nite Spa, located on Abbot Kinney Blvd. in Venice, caters to people caught in the daily grind by staying open (by appointment only) between noon and midnight. With their innovative concept and ironically amusing menu, Nite Spa starts relaxing guests and making them feel better even before they crash out on the treatment table.
Take for example the "Dazed and Confused" ($120) facial. This combination skin custom facial is designed to help those who live in sub-tropical, super-dry and smoggy Los Angeles – and have the problem skin to prove it. This 75-minute facial combines several masks for a thoroughly regenerating facial, while a gentle warm exfoliation and a botanical eye treatment energize, relax and illuminate the skin. "Dazed and Confused" straightens out mixed-up complexions.
Another superb facial on offer is the "Royal Flush" ($145) – billed as a "Luxury Pampering Facial." This 90-minute extravaganza consists of facial massage and mega-hydration with products comprised mainly of botanical extracts. What's more, hot stones applied to the face help rev up circulation and impart a rosy glow.
In the realm of massage, Nite Spa dishes out some dynamic choices. If all you can spare is fifteen minutes, then sign up for the chair or lobby massage for $25, or $45 for thirty minutes. Reflexology is also on offer ($55.)
If you like it hard, you can get "a proper beating" from the 60-minute "Deep Tissue & Sports Massage" ($105.00) or a four-handed deluxe massage on one or two bodies. (60min, $175). Nite Spa's "Round the World" signature aromatherapy massage blends techniques from various systems, including Swedish, lomi-lomi, shiatsu, Thai and Ayurvedic. (60min, $95; 90min, $125)
Along with a full waxing menu for bikini, legs, lips and back needs, Nite Spa offers smart and sensible make-up services, a la "The Warhol," which costs $45 to paint the whole face, or $20 for eyes only. "The Twiggy" – false eyelash application – runs $20. While bridal make-up runs $125 and up, the "Quickie Facial" with simple make-up application and elixir is $75. This writer can vouch from personal experience that the $65 "Pedicure Super-Deluxe" is ideal for the high heel wounded – or those who have spent too much time running after children or working on their feet.
Nite Spa's menu for men is equally practical and irreverent. Here you will find the "MAN-icure" – a soak, file, clean, mini-massage and buff ($20), as well as the rather forward invitation to "add a hand job – ten minute hand massage & paraffin wax dip for $15." Along with male manicures and pedicures, there are also 60-minute, 75-minute and 90-minute facials.
While the atmosphere at Nite Spa is best characterized as left-coast, urbane hipster minimalism, the best thing about the place is the nurturing, 21st century male/female spirit.
Read next >> thibiant spa