the niroga institute
Published: 13-10-2011 - Last Edited: 09-11-2022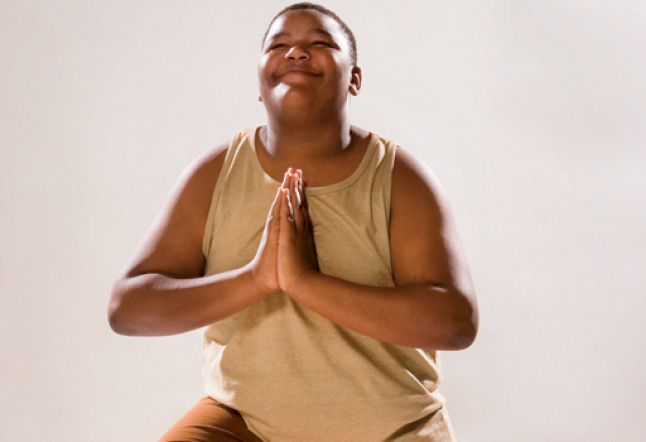 Founded by Bidyut "BK" Bose a little over six years ago, Niroga is a nonprofit organization that seeks to foster health and wellbeing for at-risk and underserved individuals, families and communities through the practice of yoga. (In Sanskrit, niroga means "integral health.") Bose began his own studies of yoga as a small child, learning from his father and later from monks in the Himalayas. He has been teaching yoga for more than 35 years. He spent years obtaining advanced degrees in computer science and working in Silicon Valley, but was inspired by Swami Vivekananda's twin ideals of self-realization and selfless service, and longed for greater alignment of his internal and external lives. Out of the wish to expand his circle of love and his desire to serve, the Niroga Institute was born.
Niroga brings the healing benefits of yoga to children with special needs, at-risk youth and the elderly, for whom stress – physical, emotional and social – can be overwhelming, on top of already difficult circumstances. Niroga has outreach, education and research programs, and often works in partnership with other educational, healthcare or social services organizations.
Sports4Kids, a national program that provides physical education and after-school programming to low-income schools, sponsors the Rock La Fleche/Niroga partnership. Starting this fall, Niroga will team with Sports4Kids to bring integral development programs to 10 low-income schools on an ongoing basis. The leaders of Sports4Kids have been impressed with Niroga's ability to add mind-body programming to the existing curricula.
"Sports4Kids' partnership with Niroga has been an exciting opportunity for two organizations dedicated to youth," said Jill Vialet, Executive Director of Sports4Kids. Perhaps one of the students at Rock La Fleche said it best: "When I get really stressed now, I begin to find my breath, to inhale and exhale – and it really works!"
Niroga has collaborated with many organizations that offer programs for underserved communities, including its newest partners, Alameda Point Collaborative and Sunny Hills Services. Other partners include Alta Bates Comprehensive Cancer Center in Berkeley, Delancy Street Foundation's Life Learning Academy High School, Horizons Unlimited of San Francisco, Inc., Huckleberry Youth Programs in Marin County and San Francisco, Summit Hospital's MPI Treatment Services in Oakland, and East Oakland Youth Development Center (EOYDC).
Regina Jackson, Executive Director of EOYDC, explained the importance of what Niroga is doing. "We are located in the middle of the "˜Killer Corridor',' with the highest concentration of murders in the city of Oakland," she said. "Poverty, crime, poor test scores, high drop-out rates and unemployment plague this neighborhood's population. The youth who come in with boundless energy can now focus on a dime because of the discipline they have learned through yoga. We will further expand our partnership with Niroga this summer, exposing youth ages 8-18 to the wonderful world of yoga."
By the end of June, Alameda County Juvenile Hall will be on board with Niroga programs, with Marin and San Francisco Counties actively reviewing solicited Niroga proposals. "The enthusiasm of local governmental agencies to work with Niroga, including public health, education and probation offices, has been overwhelming," said Tamara Perkins, Niroga's Program Director. "The program at Alameda County Juvenile Hall was funded through a beautiful example of inter-agency collaboration. Niroga has been quite successful with our transformative integral learning programs focused on youth development and self-realization, and we are expanding them to include the families and affected communities to create lasting societal change."
In addition to its community outreach programs, the Niroga Institute is researching the effects of yoga on common chronic conditions and special populations. This October, Niroga will hold a "yogathon," its first community fundraising event. Niroga also offers training for yoga practitioners to become Niroga Yoga Corps™ teachers.
Read next >> stress management center of marin