mission street, south pasadena
Published: 15-12-2011 - Last Edited: 12-08-2021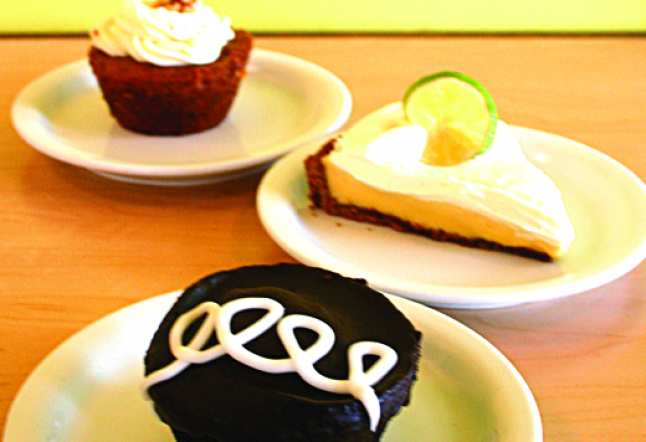 Just off the 110 Freeway is Mission Street, South Pasadena. A bustling business district back in the 1920s, this street still boasts historic brick buildings and a local train stop. Look a little closer and you'll find modern amenities such as a wine bar, a beauty emporium and a knitting shop tucked behind these old-fashioned windows.
1. Bent
Graffiti murals climb from floor to ceiling in this art-inspired T-shirt and urban sportswear store, which will soon have its own line, including some organic options, coming to the market. And don't forget to sneak a peak at the backroom art gallery to add some free culture for your dollars.

1011 Mission St.
South Pasadena, CA 91030
626.403.6453
2. Heirloom Bakery & Café
Owner and born chef Sally loves serving the locals an array of baked delights like chocolate bonbons, coconut bars and gargantuan slices of apple pie. If it's a full meal you crave, delve into such worldly fare as the vegetarian breakfast burrito, French chicken sandwich or Asian chicken salad.

807 Meridian Ave, Suite C
South Pasadena, CA 91030
626.441.0042
3. 750 ml
The industrial, chic décor echoes the subway station that's positioned steps from the front door, welcoming commuters in for a light bite and a glass of wine on their way home. The wine selection comes from both the Old and New Worlds, while the cuisine leans toward French style with a Mediterranean flair.

966 Mission St.
South Pasadena, CA 91030
626.799.0711
4. Abuelita's Knitting
and Needlepoint
A white palate is background to the wall of cubbies full of brightly colored yarn in a plethora of textures and styles. The large wooden table in the center of the store hosts knitting and needlepoint workshops, project classes, and the ever popular stitch-and-chat sessions.

1012B Mission St.
South Pasadena, CA 91030
626.799.0355
abuelitasknittingandneedlepoint.com
5. Mike and Anne's
With a commitment to local ingredients in their specials and desserts, it's no wonder that Mike and Anne's is just down the street from the South Pasadena Farmers' Market. Indoor dining is great, but its outdoor patio is even better (when the weather isn't sweltering, of course). The wine selection is solid, and regulars rave about their sweet potato fries with herbed aioli. Try the marinated Japanese eggplant entrée, and the caramelized apple for dessert. With breakfast, lunch and dinner on the menu, anytime is the best time to visit this neighborhood restaurant. If you're going for supper, don't forget to make a reservation!
1040 Mission St,
South Pasadena, CA 91030
626.799.7199
mikeandannes.com
6. Puff Beauty
The antithesis of harshly lit department store beauty counters, Puff is like visiting your best friend's well-stocked vanity. Owner and make-up artist extraordinaire Aimee Jakes personally tests out all the products and carries lesser-known, under-the-radar brands in addition to natural beauty and spa lines. Puff offers a variety of skincare and make-up services, including a bliss-inducing organic facial.

1005A Mission St.
South Pasadena, CA 91030
626.799.2864
puffbeauty.com
7. Buster's Coffee
and Ice Cream Shop
Established in 1986, this South Pasadena landmark is an artsy haven with an ambiance straight out of Haight-Ashbury. The shop offers locally grown organic blends of coffee, and delicious scoops of Fosselman's ice cream. Treat yourself to a tasty sandwich, salad and some freshly baked goods (scones and gingersnaps). Did we mention this place also hosts live jazz on weekends? Sit upstairs for a view of the entire street.

1006 Mission St.
South Pasadena, CA 91030
626.441.0744
8. Organic Rush
Experience organic cotton bedding, bamboo kitchenware, eco-friendly living books, baby accessories, apparel and locally made soy candles. In July, they introduced their own line of sumptuous teas.

960-962 Mission St.
South Pasadena, CA 91030
626.799.8099
organicrush.com
9. Mission Street Yoga
Offering Anusara-style yoga with varied levels of classes, Mission Street Yoga is a down-to-earth, welcoming presence in South Pasadena. Patient, accommodating instructors allow everyone to work at their own pace and keep students coming back for more. From kids to prenatal classes, this studio offers something for everyone. Husband and wife owners Stuart and Mara make you feel like family, so it's no wonder that Mission Street Yoga is thriving and growing.

1017 Mission Street
South Pasadena, CA 91030
626.441.1144
missionstreetyoga.com
10. Zinnia
Tamera Tolkin opened Zinnia a little over three years ago, and it is now chock full of beautiful art projects created by its patrons and teachers. The whimsical arts and crafts shop features a doodad bar with hundreds of little trinkets (think miniature teddy bears, doll accessories, beads and more) perfect for collages. Every corner virtually explodes with art supplies, including paper varieties, rubber stamps and paints galore. Zinnia also offers classes for adults and kids ages 10 and older in mediums ranging from scrapbooking to sock creatures. Who doesn't love sock creatures?

1040 Mission St.
South Pasadena, CA 91030
626.441.2181
zinnia.biz