medidate
Published: 02-07-2016 - Last Edited: 06-11-2022
meditation on the go
Deemed the hybrid of Uber and AirBnb, Medidate maps out nearby gatherings for meditators, yoga doers, musicians, and practitioners of tai chi.
Medidate, available on iPhone and Android phones, is free and connects practitioners and teachers. Teachers can create a class listing and practitioners can find nearby sessions. Reputed teachers such as Kino MacGregor, Marla Apt and other great instructors have already joined the app.The main feature is the map (or the list) which pins the class location, price, description, time, date, and creator. Practitioners have the option to "Go," and the event syncs to the phone's calendar. Both practitioners and teachers have the option to start a chat for more detailed information. Practitioners can keep track of their past and upcoming classes and follow teachers to keep track of upcoming sessions. Payments from students to teachers is also an integrated feature.
The great value of Medidate is that it is a network and tool to bring communities together. The clean graphics and multiple options make it easy to use and navigate. There is great potential for teachers to grow their network and for students to quickly find classes that align with their needs. Currently, it is used for yoga, tai chi, meditation, and jam sessions. There's possibility for more, for example astrology sessions, health food classes, and the list goes on…
The more teachers and students join the platform the richer it will become and it will be extremely easy finding the exact class one might search for which will be a valuable asset to maintain a regular practice.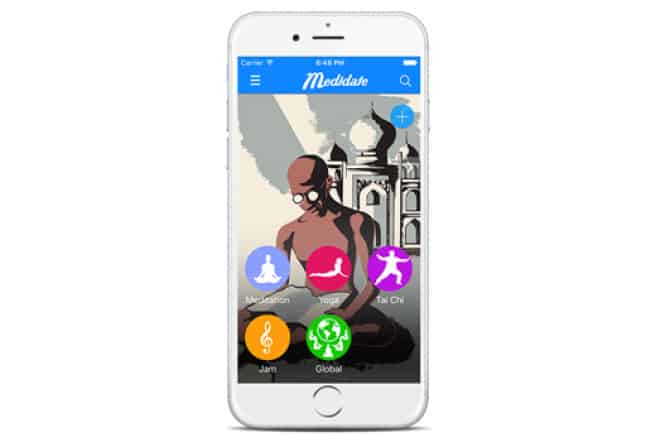 Medidate would be so helpful for a busy teacher/practitioner lifestyle. There is a need in the technology market to track mindful practices and bring together like-minded people. Medidate's network is growing rapidly, teachers can connect to a larger audience and practitioners can find numerous sessions with the touch of a finger and very soon within a few miles reach!
Read next >> loss and denial