medicine eatstation | closed
Published: 18-02-2013 - Last Edited: 09-11-2022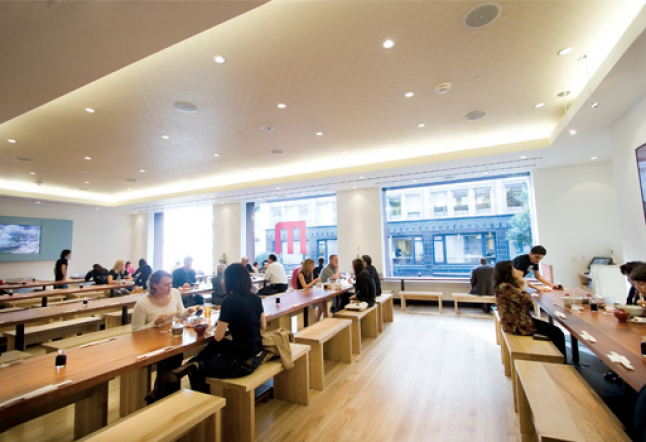 closed
It is one thing to preach "maître"(Buddhist term for "loving kindness"), but it is a rare restaurant that can claim that its staff actually fulfills this internal goal. Medicine sets a shining yet humble example. My visit presented nothing but the most gracious and welcoming service. Our server, Boris, was not Japanese, but his mannerisms were in line with exactly the type of graciousness and humility that you might expect in a traditional Zen monastery.
The fare served at Medicine is called "shojin ryori." It was originally prepared for Zen monks living in the monastery. Traditionally, only the very advanced monks could become chefs because food was scarce, and it was important that meals sustained and nourished the monks. The nourishing power of the food would be directly connected to the Zen mastery of the chef. Pioneering the niche of "shojin cuisine" in the United States, Medicine incorporates modern nutritional ideas with customary Zen dishes.
Medicine restaurant certainly has a healthy and thriving miso recipe that is milky and plump with various veggies and soybeans. The meal that followed was no less tantalizing than the soup that preceded it.
The Mountain Monk Set's main feature was a salad that was as decadent and fulfilling as they come. Exotic beads of fermented miso (otherwise known as "natto") dotted the bed of fresh greens with grapes, sweetened almonds, and savory walnuts. A sweet, honey, miso vinaigrette collected and delivered the scattered flavors and textures like a birthday present for the mouth; but truly unique was the entire carrot placed on top""so simple and yet so beautiful…so very Zen.
Another highlight was the Medicine roll: an original combination of avocado, nine-grain rice, nori, carrot, sprouts, and sour plum flax seed. Though I doubt these modern chefs are Zen masters, it seems that they work on more dimensions than your typical restaurant. The dishes were not only elegant and flavorful, but also full of interesting texture combinations. As I ate, the feeling was as if I were being passively educated on energetic levels by the food. While the sushi maki rolls with nine-grain rice were delicious, one should be prepared for the rice taking front and center stage with a distinctive flavor all its own. Also, extremely different from your typical sushi was the mountain monk temaki with fermented soybeans (flavored slightly like tempeh), which turned out to be quite slimy.
Also Read>>> Banysn Botanicals
The atmosphere at Medicine is slightly weighted toward a downtown lunch crowd with long tables and shared benches that hint at cafeteria dining. This arrangement helped relax the formality common to many Zen temples and establishments.
Medicine has a solid foundation built on "maître." Because of the Buddhist belief that all sentient beings should be honored, there is no meat served in "shojin ryori." As a sort of coincidental bonus, this leads to a vegan menu. In the Zen tradition, much emphasis is placed on the aesthetics of simplicity; this is clearly the goal of the hardwood floors, sparsely furnished room, and the giant LCD screen displaying a mountain scene.
Read next >>> om south indian cuisine