maraica
Published: 03-12-2017 - Last Edited: 09-11-2022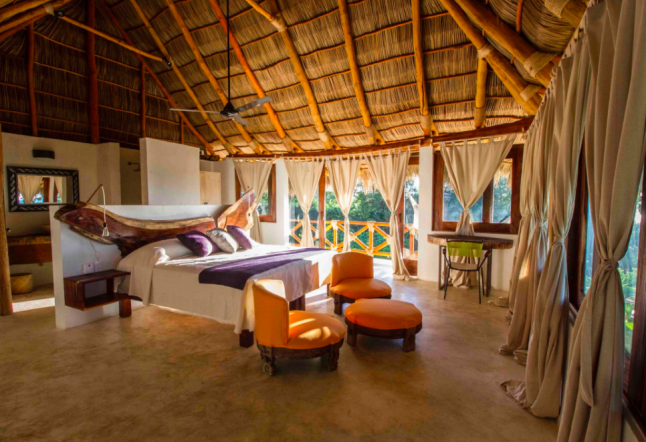 Are you looking for a comfortable place to kick back for a few days and enjoy an amazing view overlooking the ocean? We found a small eco-friendly boutique hotel, located in the Costa Azul area on the west coast of Mexico. The perfect spot to immerse yourself in eco-luxe, surrounded by jungle and whispering palm trees.
Maraica by House Maria's is located just a few steps from the beautiful beach of San Pancho. This is the quiet part of the beach, ideal for your morning run or a refreshing swim. It is an easy 10 minute walk by beach or road to the town. San Pancho (originally called San Francisco) is equally as great as its neighboring town of Sayulita for surfing and yoga, yet more peaceful and lesser known.
San Pancho is a charming village that attracts a lot of musicians and artists. It has a few adorable boutique shops, bars, and restaurants. With a pleasant mix of locals, travellers, and foreigners who live here for a few months each year. On Tuesdays, there is a great local market with handmade jewelry and homemade organic food.
Maraica only has 12 rooms and all are very spacious and comfortable. We loved the natural looking interior with clean white walls, simple wooden construction detail and the Palapa style roofs. The room has a ceiling fan but we actually preferred the natural ventilation courtesy of the ocean wind. The king size beds are super comfortable, we slept like babies, lulled to sleep by the sound of the waves.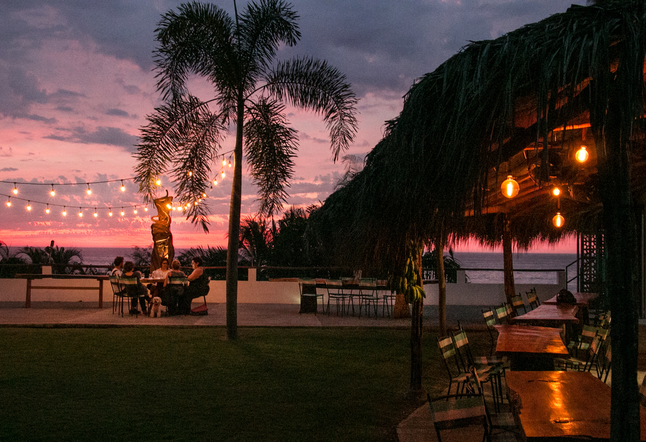 Credit Maraica
The building is eco-friendly through their use of solar-energy and reusing water for irrigation. They also offer organic toiletries. There are large balconies with hammocks, overlooking the sea and ample spots throughout the property perfect for your yoga or meditation practice.
There is a rooftop dining space with an amazing panoramic beach view. The breakfast included in your stay consists of a tropical fruit bowl, coffee, and yogurt with granola. During the day you can order different Mexican-inspired dishes and bites like guacamole and ceviche.
After a quick, refreshing dip in the half-salt water, beautifully lit infinity pool, we recommend sipping a drink from your sunlounger and gazing across the sea. Every evening greets you with a different sky. It is here we saw the green flash of light, the one that is sometimes visible for just a few seconds before sunset. A bizarre natural wonder in a magical place.
Read next >> Yoga Resource