mana
Published: 22-04-2015 - Last Edited: 30-10-2022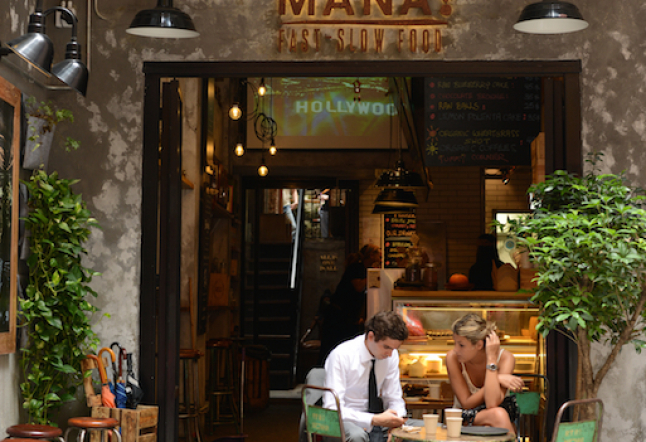 Intrigued by the name, Fast Slow Food, I first came to MANA! in 2012 and it quickly has become my regular go to place for a dose of healthy food. Their menu hasn't changed much since they've opened their doors but the choices available are more than satisfactory for any health conscious foodie.
I could never get bored of their packed with nutritious goodness salads (kale, quinoa, chickpeas, roasted veggies, greens topped with hummus, baba ganoush etc.) that make for up to 3-4 meals. I am also a big fan of their flats (or wraps, also available gluten-free) with a choice of 30 different toppings. Pair that with one of the juices and you have a perfect lunch combo. On the top of that, for those with a sweet tooth, there are heavenly raw chocolate or coconut cakes, pies and truffles.
There is a lot more to it than delightful food and a chilled place to hang out in the bustling city of Hong Kong. The founders, Bobsy and Christian CGM, have dedicated their life to raising awareness of environmental culture by pioneering mindful eating in Hong Kong. The philosophy behind MANA! is reflected in every aspect of the cozy restaurant. From saving energy and water, recycling, to zero food waste, MANA! truly embraces the spirit of the mission to offer 'food that doesn't cost the Earth'. The strong belief that organic and vegetarian food should be fair trade and ethical may disappear a bigger picture yet it is very powerful if you only take that little extra time, slow down and think about the footprint we leave every day.
The new addition, MANA! Raw, brings some of the most delicious (and customisable!) juices and shakes (Rawsome, Dope, Yogi to name a few), as well as a few novelties: vushi (vegan sushi), chia pudding, soups and more.
Their beautifully simple motto 'Eat like it matters' has been deeply ingrained in my mind since my first visit to MANA! and reminds me in my daily life that by making the right food choices I can not only fuel my body, prevent illnesses but also lessen the environmental impact on the Earth.
Read next >> noodle mi