mama san
Published: 07-01-2013 - Last Edited: 12-08-2021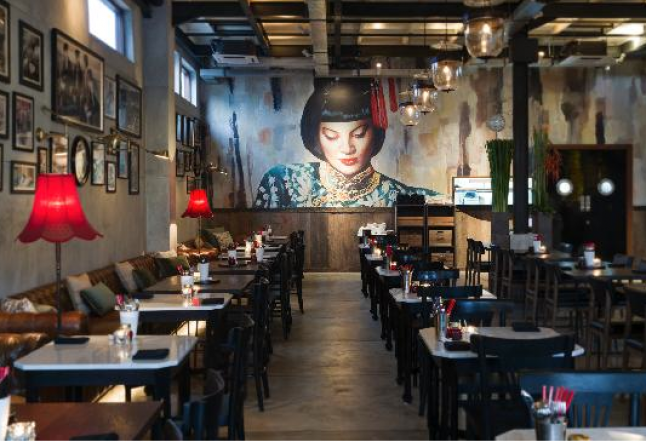 Sister to the re-known restaurant Sarong, Mama San is a large "gudang" (Indonesian for warehouse) that hosts a two level retro-vintage restaurant, bar and cooking school. The décor emanates the deep, rich flavor of Shanghai in the 1920's.
The oversized tan leather chesterfields, high ceilings, vintage clocks, send you back in time. Grey and brown colors with a touch of deep red, give the overall atmosphere a warm and comfortable feeling. A mural of Mama San (Known to be a madam of authority in an Asian gentlemen's club, selected for the name of the restaurant for the old and new world influence of the decor and the cuisine) envelops the back walls of the restaurant.  Two staircases on either side of a buzzing bar let you know that the fun does not end on the first floor and inspire a mysterious desire to explore the upper level.
The cuisine is an explosion of exquisite Asian delights. The extensive and fairly priced menu offers a great variety of vegetable dishes, gluten-free options and healthy salads inspired from Chinese, Indonesian, Indian, Malay, Singaporean, Thai, Cambodian and Vietnamese fare. Street food from some of the favorite travel places of vibrant English native Chef Will Meyrick, owner and mastermind behind Mama San influences the menu. For the lovers of exotic spices and Asian flavors, you will be served beyond your dreams. Every bite will ignite memories of wandering the streets of Asia. Kachooris, a spicy snack popular in various parts of India, with yellow dhal coriander and mustard seeds is a favorite, served with mint chutney & tamarind chutney.  It will warm your belly, and set the tone for any other dish you might order.
At Mama San the staff is particularly accommodating, with a genuine desire to make your experience exceptional for every meal. Most of the dishes can be modified on order for vegans, vegetarians or more delicate palates. Time slows down once you enter the establishment, propelling to a past where rushing back to work is not part of the picture. You will be back formore. Maybe extend your lunch into the happy hour when the bar starts filling up with the refined crowd of the creative spirits of Bali.
Eating at Mama San is real culinary voyage. Quality and originality are the distinguishing character of Mama San and you will be delighted by both.
If you are truly inspired by the flavors and dishes at Mama San, the upper level is designed to provide cooking classes during the day. Open for lunch at 11am – 2pm and for dinner from 6pm – 11pm. Reservations are recommended for lunch and essential for the dinner service. Valet parking is available.
For more info on Bali's best spots for the modern yogi STAY | SPA | PLAY | EAT | SHOP | YOGA – Download our ULTIMATE BALI GUIDE for free.