maha ganapati temple of arizona
Published: 30-03-2013 - Last Edited: 14-11-2022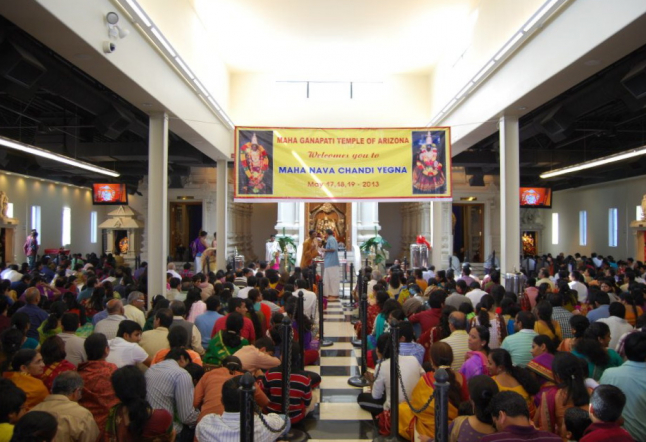 Situated in the farmlands of Maricopa City, the Maha Ganapati Temple of Arizona is a microcosm of India and her legacy of temple worship. A true religious and architectural paragon of South Indian Hindu ritualism, the temple is nearing the final stages of construction in strict accordance with the Agama Shastras, and is becoming a distinguished point of pilgrimage in the footsteps of Kauai's Hindu Monastery, a close affiliate.
Designed by renowned temple architect Shri Muthiah Stapathi, with remarkable craftsmanship by four multi-generational shilpis (artisans), the temple is as authentic as it is inspiring. The sacred architecture and ancient methods of ritual consecration create exceptional shakti (spiritual energy), and the numerous gods and goddesses enshrined in the main hall make for extraordinary darshan (divine viewing).
Visitors can expect to find the temple more formal than its regional counterparts due to a strong emphasis on preserving Hindu traditions. A conflict between the actions and dictates of the temple elite can cause confusion, so opt for conservatism and put any questions to one of the many temple regulars. Just because a priest is drinking chai inside the main hall does not mean that you should!
Westerners and non-Hindus are openly welcomed and warmly embraced. The temple is by design a place for spiritual practice rather than for sightseeing or guided tours, however such opportunities might be prearranged thanks to temple president Mouli Subramanian's expressed interest in community outreach.
Traditional Indian dress is preferred, but conservative Western clothing is a suitable alternative. Check in advance that you can comfortably sit cross-legged on the floor should you wish to participate in a program or meditate (chairs are available for the elderly and infirm).
The temple's full calendar of events includes an average of twenty puja (worship) opportunities each week, regular bhajans (devotional singing), classical music and dance performances, and the celebration of all major Hindu holidays. Whether you live in Arizona or are passing through, the Maha Ganapati Temple is your southwest passport to the living tradition of Indian temple worship.
Complete schedule and special event information is available at ganapati.org.
Read next >> practicing yoga while traveling