made's bakery
Published: 01-11-2016 - Last Edited: 12-08-2021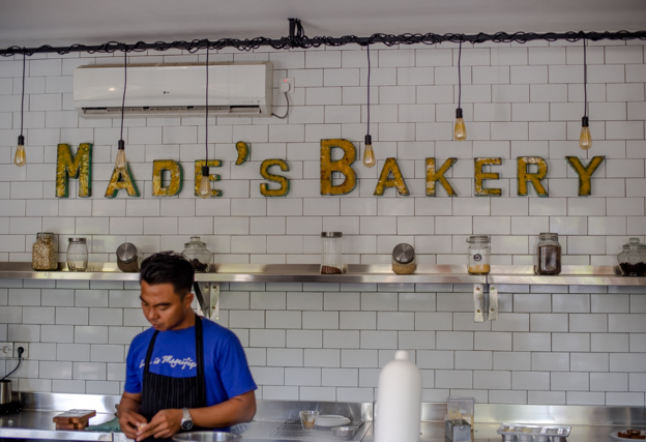 This story begins with two men meeting each other while walking on the beach in Bali.

Michael, who is British, had moved to Bali and previously worked as a property developer. However, he was looking to do something more meaningful. Made, who is Indonesian, had lost his wife and was trying to find himself while also taking care of his three children.

After 2 and a half months of long walks on the beach, sharing stories, and picking up seashells together, they became friends. One day, while sitting underneath a banana tree, they decided to start a business together.

"Have you ever heard of banana flour?" asked Michael – and the idea of Made's Bakery Banana Flour was born.

Banana flour is a fantastic and healthy alternative because it is gluten free, tasteless, high in potassium, and even low in sugar because they use the green, unripe bananas. However, there are only two banana flour factories in the world and the flour is extremely expensive. After months of trial and error, the two concluded – baking with banana flour is quite hard.

But, they were up for the challenge and started the first banana flour bakery to show the world what can be done with this super flour!

Made's Bakery bake their banana bread three times a day to ensure you receive a fresh one! We tasted a slice that was still warm and soft from the inside and super crunchy on the outside. They have exciting variations, such as brown banana/cassava bread, green spirulina/spinach bread, and raisin/walnut/fruit bread.

Aside from bread, you can also buy delicious pancakes, pastries and cookies. During your visit at their bakery in Canggu, make sure to try the French toast with maple syrup. This one is so light and airy – it's almost like cake. Mmmm… bananalicious!

We also love the program they started to encourage farmers who are afflicted with dry rice paddies to start planting banana trees. Made's Bakery shows them how to buy and grow organic bananas. The farmers make nearly 7 times more money in a year than growing rice!

Although you can order divine coffees and banana baked goods in the cafe, Made's Bakery's core business is to be a wholesale bakery. They deliver to hotels and restaurants in Bali and are also dedicated to educating the community about the power of banana flour.

Do you have a banana flour recipe request? Please tell the guys! In the test kitchen, people who have graduated from the hotel school will start experimenting for you. All baked goods are gluten free, with a goal of baking vegan and sugar-free products.
For more info on Bali's best spots for the modern yogi STAY | SPA | PLAY | EAT | SHOP | YOGA – Download our ULTIMATE BALI GUIDE for free.