los angeles spas – a new world of holistic health
Published: 02-09-2011 - Last Edited: 08-11-2022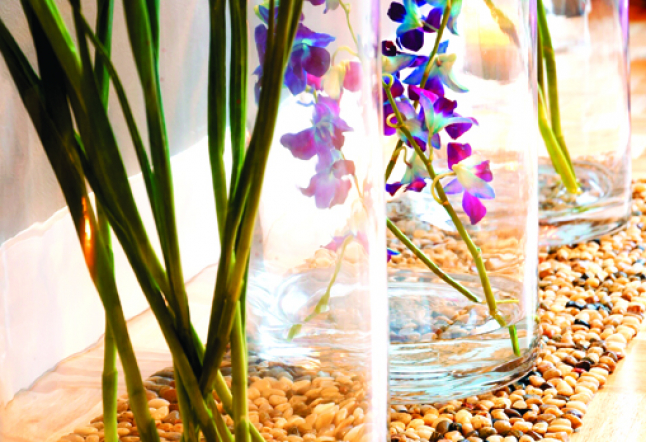 There's something to be said for the lift you receive following a trip to the spa. It's not that you have anything tangible to show for the sometimes sizable chunk of change you've recently left behind. In fact, for a similar price, you'd probably be fending off compliments on a new pair of shoes or that bag you've had your eye on. Although your experience may not compliment your figure or translate into bragging rights, what it is capable of offering has value at a much deeper, more foundational level. After you hang up your robe and settle back into your daily routine, you may find yourself recouping more than just compliments. A successful spa visit works its magic within, making over your spirit, rejuvenating your essence and restoring balance (and beauty) to body, mind and spirit.
In our frenetic culture, it can be rare to find an opportunity for even a single moment of uninterrupted solitude. Operating from a communication-centric framework, our alone time often turns into another opportunity to connect with the people in our lives. Whether it's "relaxing" as we reply to an email, take a phone call or make plans for the following day, it seems our minds have become accustomed to working overtime. There's no doubt our active external focus assists greatly in navigating many aspects of our lives, but when we start to rely too heavily upon it, we may find our wellbeing hanging in the balance. Focusing the bulk of our attention outside of ourselves, we have consequently become distanced from our own inner guidance, nature and purpose. An absence of self-nurturing may well be the culprit of a societal increase in as sleeplessness, anxiousness, depression and stress-related illnesses, relaying the message that something needs to change.
Attempting to find liberation from stress and stress related illnesses, an increased number of people have started to turn to the spa. A spa session presents a unique opportunity to shed our action-oriented programming and instead to experience in the stillness of our own being. The spa serves as a sanctuary, a no-fly zone for the attention-starved stimuli that tends to follow us throughout the day, providing a much-needed resource for relief. Creating a scheduled time to slow down our breath, muscles, thoughts, concerns and ultimately, our minds, the spa experience offers a delicious lull in activity that produces a rare occasion to enjoy the non-action of simply being. Unlocking barriers and opening portals to uncharted territory within, spas have assisted us in getting back in touch with ourselves by sharing with us the masterful practice of silence and relaxation.
A product of many cultural shifts, the contemporary spa encompasses a variety of shapes, sizes and functions. Offering guests an array of treatments to fulfill an assortment of needs, spas range from mass chains to niche operations. Early spas in the United States such as Elizabeth Arden entered the scene in the early twentieth century offering a predominantly female clientele manicures, facials, waxing and other beauty services. Over time the modern spa has evolved from a beauty epicenter to multifunctional spaces including holistic treatments, complementary and alternative practices alongside traditional procedures. Introducing Eastern medicine-based healing therapies including energy healing and oriental medicine, holistic spas have appealed to those searching for preventative measures and new remedies to old problems. Many holistic spas incorporate wellness programs, health-inducing treatments and organic products in their offerings. These spas tend to focus on the therapeutic healing results of the spa experience in addition to the balanced aesthetics and pleasurable experience within the space itself.
Stretched to describe many aspects of health and wellness industry, the term holistic has recently been assigned to cover quite a bit of ground. By definition, holistic comes from the Greek word holos, which means to be entire, total. It speaks to the concept that all properties of a given system cannot be determined by the sum of their component parts alone. Instead the system as a whole determines how the parts behave. It recognized the emotional, mental, spiritual and physical elements of each person. A holistic philosophy has been embraced by Eastern medicine for over 5,000 years and is just starting to take root in mainstream Western culture. Moving away from the desire to treat fragments, symptoms and isolated parts of ourselves, we have awakened to a calling to heal ourselves as whole entities. We have recently experienced this shift on a mass level, witnessing an increased collective desire to look past short-term discomfort, get our hands dirty and to do the work required to heal ourselves at a core level.
Until recently, treatments found in holistic spas such as reiki, reflexology, color therapy, acupuncture, chakra balancing and aromatherapy have occupied a fringe existence, worlds apart from mainstream health and healing. Over the last decade these treatments have successfully removed the "new age" stigma that had overshadowed the relevancy of their healing properties. As public awareness and curiosity has increased, so has the demand for such practices. Combining the beautiful, serene aesthetics of a traditional spa with the healing properties of holistic modalities, health and wellness spas are experiencing unprecedented popularity. Nina Curtis, owner of The Nile Institute, has witnessed a common shift in the drive motivating people to seek treatment. "There has been a change from "˜I want to look good' to "˜I want to feel good,'" she says. "More and more people are realizing that you need to take a look inside and stop looking externally." Curtis has seen progress in the receptivity of her clients to new treatments. "Now when I say I'm going to do acupressure, aromatherapy and color light therapy on a pressure point, they are more ready for it," she says.
Living in California, it often happens we are on the forefront of the latest movements with the unique opportunity to access new venues, treatments and experiences as soon as they become available. Should we settle on an emerging procedure we'd like to try, we have the benefit of locating an abundance of options right at our fingertips. With so much selection, it can be difficult to ascertain which services and spaces will best meet our needs. To provide more clarity and insight into local options, I had the pleasure of visiting a handful of California's leading holistic spas. Each varying in its services, specialties, amenities and energy, I was able to explore an array of health and wellness offerings and wholeheartedly recommend each of the following spas.
The Nile Institute, located in West Hollywood, provides a cozy, delightful space specializing in holistic skin care. Nina Curtis, a knowledgeable esthetician, lecturer and business owner has been in the skincare, health and wellness industry for over 25 years. Upon entering the space, I feel an immediate sense of release. The stress of my day followed by my frenzied cross-town, rush hour drive retreats as I await my appointment. Later I'm told that the beautiful lime green lined walls in the reception area are in fact quite intentional. In color therapy, green translates to calming and healing. "I don't know where you are coming from, what your day has been like or what's happened," Curtis explains. "And in a very short amount of time, I need to start making your layers shift down to receive." Also in the main room is a gathering of elite, international products hand selected by Curtis. Scouring the world for the latest technology in therapy and products, she is an expert in the world of skin care and holistic advents. Curtis relays she uses each product herself prior to endorsing it to clients so she can experience its properties firsthand. As she describes the various products, she explains that no two treatments at The Nile Institute are ever the same. It is Curtis's mission to combine elements and treatments right for your skin on the day you visit. Beyond products, Curtis has LED (Light Emitting Diode) and an electro-frequency emitting machines in her tool box to give clients every option possible to revive their skin naturally without going under the knife. Curtis feels like a mixture between a girlfriend you've known for years and a teacher who has much to convey. "I love my job," she says. "Sometimes I feel like I'm a mixture between a mad scientist and a kid in a candy store." I leave with a new understanding about my skin and sense of wellbeing; I can't tell if I should credit it to the reiki facial, the dose of avocado extract vitamins hydrating my face or the exchange with Curtis herself. The Nile offers skin enhancing facials, oxygen therapy, make-up, color light vibration therapies, aromatherapy and reflexology among other treatments.
SHIFT Center for Dynamic Change, located on Belmont Shore's popular 2nd Street, has done an extraordinary job in offering Long Beach locals a sanctuary for health and healing. Prior to opening last year, co-founders Gabrielle Pelicci, PhD, and Kristin Biscoe PsyD set a vision and intention for their center that easily translates to visitors. As I enter SHIFT, I immediately feel a sacred energy that beckons respect for the space. Biscoe explains the center's layout was influenced by a feng shui master who helped the pair decorate while considering the influence of feng shui energies and elements within the spa. A large studio provides an inviting entrance to the spa where yoga, Chinese martial arts classes and various seminars are hosted. Just beyond the studio, an open, outdoor Zen garden protrudes complete with a collage of plants, flowing waterfall and comfortable benches. The garden is utilized for quiet reflection, wellness counseling and serves as another space to practice relaxation techniques. Toward the back of the studio is a treatment room, where a host of practitioners see clients. SHIFT, only in its first year, has already established quite a lineup of services, offering acupuncture, herbology, yoga, nutritional counseling, massage, medical qigong, vinyasa yoga, Kundalini yoga, tai chi, hypnotherapy, reflexology, reiki and nutritional services. A metaphor for synchronize, harmonize, integrate, formulate, transition, SHIFT acts as a catalyst, assisting clients in achieving therapeutic healing, an anchored sense of wellbeing and ultimately an increased quality of life.
Nestled on a beautiful, walkable street a mere block from the beach on the Marina Peninsula, Creative Chakra is a Westside gem. Creative Chakra opened its doors three and a half years ago as a center where owner, Sandie West could service an expanding list of clients. Growing rapidly in size and function since that time, Creative Chakra almost feels like a living entity itself. The eclectic make up of the spa includes three treatment rooms, a large outdoor space, a yoga studio, a store and many other well decorated and utilized spaces, including an aromatherapy chamber and ozone baths, await clients. Creative Chakra offers a range of services including acupuncture, biofeedback, reflexology, a host of massages and facials. As I sit and talk with West, she churns a large bowl of what will become bottled bath salts, representative of the pure, holistic nature of Creative Chakra even found within the homemade spa ingredients. During the course of my massage and facial, I learn that the essential oil blends, such as the aloe and lavender treatment used to hydrate my face, are complimentary mixtures created by West herself. While receiving a facial, reflexology and a massage, I feel a supreme sense of relaxation and drift in and out of my body and mind. On my way out, West hands me a special elixir created specifically to open the heart chakra. It tastes delicious and I leave with an overwhelming sensation of being well nourished and at peace. In addition to spa services, Creative Chakra offers several workshops and seminars rooted in holistic health, healing and philosophy.
Liberation yoga, a staple in the West Hollywood neighborhood, offers a growing community access to an array of spa treatments. In addition to an award winning yoga program, owner Christine Burke has maintained a massage space where clients can receive additional healing in the form of shiatsu, deep tissue, postpartum and pregnancy massages and chiropractic services. As I enter the massage room for a shiatsu treatment, I am already in a relaxed state. When the massage begins, I notice my body experiencing resistance to the pressure points being stimulated up and down various meridians. As time goes by, I relax into the practice and become present throughout the experience. Shiatsu massage activates the flow of energy throughout the body by the release of any blocks that may be stifling natural energetic movement. After the massage I feel an absolute sense of relaxation and a peaceful buzz throughout my body. My massage therapist, Ako Matsukawa explains the importance of breath throughout the shiatsu process. In exhaling, chi begins to circulate throughout the body. I leave feeling refreshed and informed, making a vow to return to Liberation soon.
The emergence of the holistic spa has created a window into balance, wholeness and realignment. As we collectively open up to new holistic avenues, a growing number of therapeutic treatments will continue to play instrumental roles in our health and healing. In gaining experience with holistic modalities, it becomes apparent that each process, regardless of technique, takes us to the same quiet place within. With time, we begin to understand, the only thing needed to experience complete bliss is the release of our external pursuits long enough to receive the fruitful gifts within, just waiting for the right opportunity to surface.
Read next >> hillhurst avenue