locavore
Published: 05-11-2015 - Last Edited: 15-11-2022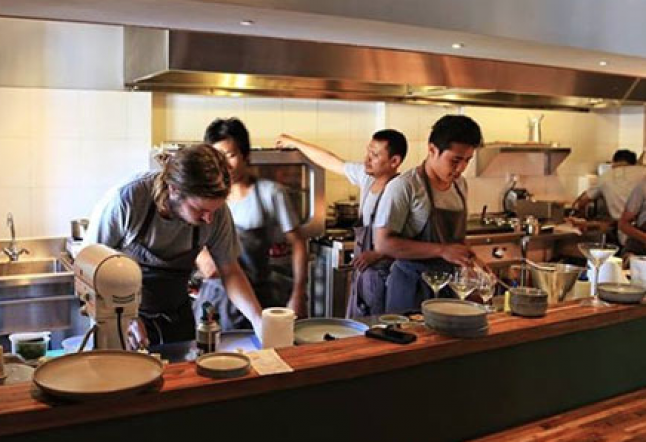 Without a doubt, Locavore will be one of the best meals you can have in Bali when it comes to mixing local, freshness, taste, originality, and creativity in the kitchen. Ingredients get transformed under your eyes inside what could be an effervescent culinary laboratory! Be ready to be blown away by the 5 or 7 course Herbivore menu (all vegetarian but they also offer Locavore which is not vegetarian) which you can enjoy with or without a drink selection pairing.
We were left with many flavors in our mouths and very few words to express it. This is what happens when a meal goes beyond expectation. Everything was cooked to perfection to maintain texture and optimum taste. The dishes were warmed-up or cooled down when needed to maintain the food at the perfect temperature from the kitchen to our table. Each plate comes with its own design adapted to the dish, and specific arrangements and props to create a surprising effect. The cocktails were paired perfectly with each course in a very unique and refreshing way. Then, there is the surprising delicacy of the dishes, which continue to keep you alert, amuzed, and amazed!
"Too many cooks in the kitchen" does not apply here, as the LOCAVORE's two young and talented chefs and owners Eelke Plasmeijer and Ray Adriansyah, with their agile team, perform a flawless dance behind the open kitchen without a sound or fuzz! (Some chefs could learn a few tricks here!) With the ever growing reputation of LOCAVORE being amongst the top restaurants in the world, these inventive chefs continually challenge and push the limits of progressive cuisine, displaying great imagination and confidence.
Think Tomatoe Sorbert to start….(yes you read right, tomatoe!) then Purple Kohlrabi (a form of cabbage) from their own vegetable garden, poached in its own juices, jellied kohlrabi consommé, bronze fennel leaves, kohlrabi leaves & yoghurt crème, pickled seaweed from Lombok, shaved kohlrabi, and seaweed krupuk. Followed by the Root Vegetables dish – Roasted root vegetables served luke warm, homemade ricotta cheese vinaigrette, salad burnet leaves, beetroot reduction, and grated long pepper. To continue, the Bitter Baby Lettuce Soup, 64 degrees (Celsius) Kampung egg, homemade raw honey vinegar, whole steamed baby lettuce, parsley puree, local made crème fraiche, crispy parsley leaves…Wow! Ok, you get a sense for the taste now that I've listed a few of the dishes we were served before the Apple Malang, a caramelized apple sorbet, salty cashew nut butter, white chocolate genoise dipped in raw honey and apple cider vinegar, lemon balm leaves, cashew nut crumble, honey foam, and pickled apple! Somebody help me here,…I think I'm fainting!
Local and fresh is their motto, so the menu changes all the time according to what is available. All the food is created from sustainably sourced local ingredients from local farmers with whom Locavore maintains a close relationship. Locavore is a wonderful food adventure, an absolutely stunning mixture of performance, food, and art for an unforgettable dining experience!
For more info on Bali's best spots for the modern yogi STAY | SPA | PLAY | EAT | SHOP | YOGA – Download our ULTIMATE BALI GUIDE for free.
Read next >> raw vegan cheese in bali