living food lab {permanently closed on March 2022}
Published: 24-10-2018 - Last Edited: 07-12-2022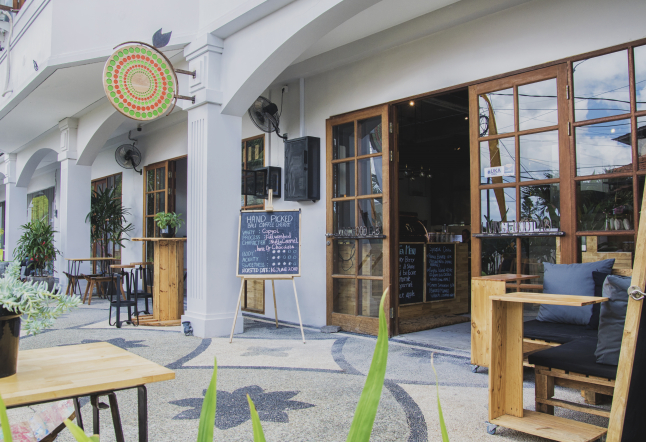 When we heard about the mission behind Living Food Lab, we knew we had to experience it for ourselves. Canggu boasts plenty of healthy food options, but this one takes the plant-based diet to a whole new level. This creative vegan restaurant next to Starbucks and Solace Floating Tanks takes you beyond the salad leaves, experimenting with nurturing and healing food. Get ready for your taste buds to feel raw food come alive!
Living Food Lab's innovative menu was created out of curiosity and continuous experimentation- the perfect spot for the modern foodie. The venue is impeccably clean and fresh. Pauliina Salmenhaara, the heart and soul behind this concept, describes it as "industrial meets green" – a laboratory turned chic.
Living Food Lab's space boasts custom handmade furniture, with mobile pieces allowing for a cozy, communal vibe. The idea behind the design is flexible space, which serves as a vibrant co-working area and makes for an excellent venue for events. They even offer culinary workshops in the Educational Lab, bringing people together to create, experiment and learn.
You can feel the spirit of 'togetherness' within the team. They are constantly refining the dining experience, inventing new items on the menu and creating new collaborations with people in the community.
Also Read>>> Interview of Founder Pauliina on YOGI TIMES
There is a science behind their juice bar, including shots made from local ingredients served in test tubes. Their juices maximize healing by pairing local herbs with essential oils. Shots like the Flu Fighter and The Digestive feature basil and oregano oils mixed with ginger and chilli, which feel like a warm hug in your throat.
We tried a sampling of dishes from the impressive menu. Light sourdough bread (from Starter Lab in Canggu) topped with hummus, tofu scrambled eggs and marinated tomato went beautifully with black rock salt. One of their signature experiments, the Nut Tuna, is a perfect blend including sunflower seeds and cashew mayo and tastes just like the real thing! We love the 'Raw-Masan Cheese' and unique twist on the vegan lasagna.
You can't leave without washing it all down with a peanut butter coffee or cacao ceremony served in cones. The dragon fruit smoothie bowl is decorated with freshly-made granola presented in various colors. You can taste the care put in each dish.
Pauliina and her team at Living Food Lab have a genuine love for their restaurant and the people they serve. A visit here will surely nurture more than just your taste buds.
For more info on Bali's best spots for the modern yogi STAY | SPA | PLAY | EAT | SHOP | YOGA – Download our ULTIMATE BALI GUIDE for free.