live food bar
Published: 11-06-2014 - Last Edited: 03-11-2022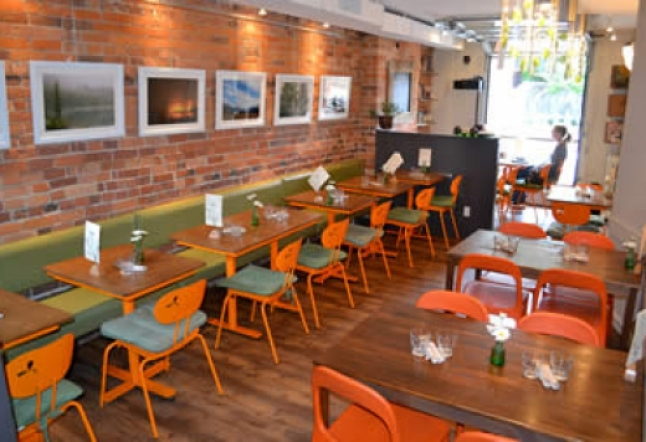 Live Food Bar is a lively restaurant that caters to health conscious foodies. It was founded in 2002 with the belief that the only way food should be processed is by the human body. Live Food Bar offers an array of delicious, homemade gluten free, sugar free and vegan dishes to revitalize and purify your body, mind and soul in a fun and eclectic atmosphere.
Run by internationally known Chef and restaurateur, Jennifer Italiano and her brother Chris Italiano, most of the offerings are based on flavors they remember from their mother's kitchen. Part of their philosophy is to stay committed to caring for the earth through the support of sustainable organic food production and local farmers. If you visit the restroom you can have a little chuckle over the photo that reads: "Shipping is a terrible thing to do to vegetables. They probably get jet-lagged just like people." – Elizabeth Berry
The food at Live is delicious, from appetizers, salads, wraps, burgers, burritos, mains, hot bowls and sides, the food is consistent and tasteful. Live does offer raw and cooked food- if you are looking for something warm and cooked the Black Bean Burrito is out of this world. For the rawfoodist the Raw Combo is a great way to go as you get a sample platter of manicotti, pizza, tostadas and portobello mushroom!
The menu extends with a large variety of fresh organic juices, organic spritzers, organic smoothie heaven, kombucha elixirs. With fun named drinks like Liquid Plumber with kale, cucumber, celery, lemon and dandelion, your liver and you will be having a good time! In addition to the restaurant, if you want to pick up something to go you can grab a Live Organic Raw® Product or one of their Cleanses drinks. These yummy snacks are gluten and dairy free, they are made in small batches without any refined sugars, preservatives or fillers.
Live is a great place to go alone or meet some friends. and eat wholesome, yummy food. You will leave Live feeling nourished and full of life!
Read next >> grasslands