lite/dark
Published: 17-04-2015 - Last Edited: 12-08-2021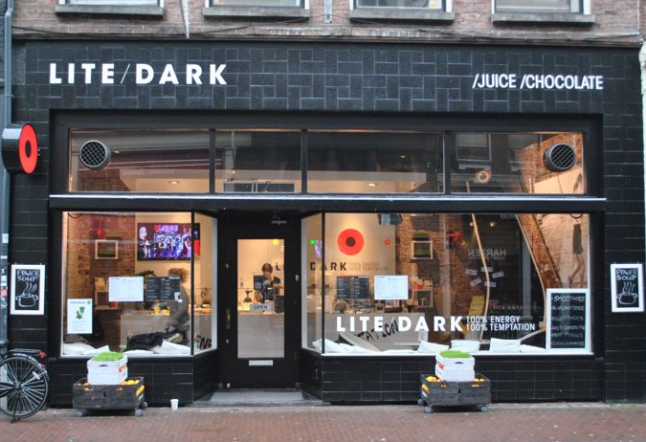 Be sure to check out LITE/DARK when you find yourself shopping in one of Amsterdam's nicest streets; "˜De Utrechtsestraat'. The name of this juice/chocolate bar – Yes! Juice and Chocolate, it doesn't get any better than that! – comes from wanting to combine contradictions and fusing contrasts. The clean black and white interior combined with wood fits well with how they describe the LITE/DARK lifestyle; it's all about energy and temptation. All their products are home made and whenever possible fair-trade, as sustainability is a high priority for them. The bar is powered by renewable energy sources and their main supplier uses electric vehicles.
Kick-start your day with one of the power shots, such as the ginger-apple or the dark chocolate (Yes. A chocolate shot!). You can either choose from a wide variety of fruit shakes or veggie shakes. Try the orange, banana, pineapple, lemon, coconut and ginger juice in either a small, medium or large version for the extra thirsty ones! Some unexpected combinations such as parsnip, mango and carrot are also part of the menu. If your favourite combination isn't on the menu, just ask one of the friendly staff members and they'll mix it for you anyway. Combine your fresh juice with a chocolate-coco power ball to make it even better! If you feel like accompanying your juice with a meal, you can choose from a variety of salads, panini's or tortillas filled with healthy greens.
They serve a changing selection of cakes, quiches, sweet and veggie muffins, which are also worth a try. If you're not in a hurry, spoil yourself and a friend with the dark chocolate fruit fondue for two! For those who are sporty today, LITE/DARK also serves after-workout packages to provide you with healthy vitamins, antioxidants and proteins.
No time to stop by the bar? They deliver all caterings free of charge (breakfast, lunch and drinks) and even prepare them on the spot of you have a party!

When in this area, check out The Golden Temple as well to end your day with a healthy vegetarian meal.