liberation yoga
Published: 04-08-2011 - Last Edited: 08-11-2022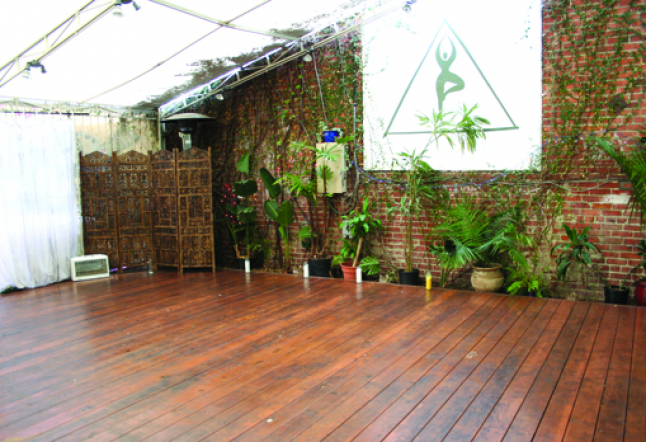 The word "liberation" stretches proudly across the relatively modest storefront. All in capitals, it suggests something large and significant looming behind the small wooden door. Curious as to what that might be, I step inside to find two women chatting warmly and munching on something macrobiotic. I have a feeling that the one on the right is Christine. We've been trading calls for a few days now and there is something inherently appealing about her, even on the phone. She's the kind of girl you just want to know. On the first message she left me, she said, "Hi this is Christina . . . I mean, Christine. Wow, Christina isn't my name at all." Her brand of playfulness has clearly become an integral part of Liberation Yoga in Los Angeles. It's a beautiful space, but it doesn't take itself too seriously, somehow. It seems perfectly natural for these two women to be sharing a late lunch in the middle of the entryway.
As Christine wraps up her snack, I survey the clothing for sale beside the check-in desk. I immediately fall for a thin, white T-shirt with the chakras painted down the front in splashes of gold and brilliant, fluorescent color. I point the shirt out to Christine, telling her that it's like nothing I've ever seen before. She informs me that she tries to support small, local designers and tends to shy away from the big names in yoga apparel. As a general rule, the companies sold here are up and coming.
My tour begins in the garden studio, where Christine unearths her pet tortoise, Jim, from behind a plant. Perhaps it's the proximity to trees and animals (or animal), but the garden studio, with its lush plants and dribbling fountain, draws me back to something essential and natural. I feel like I could stay here a while. The tour must continue, however, so I reluctantly rise, petting the tortoise, and follow Christine to the indoor studio.
Once inside, Christine and I each grab a bolster and sit down to continue our conversation. Candles line the perimeter of the main yoga room, illuminating tall, gold-leaf walls and dark hardwood floors. The room is so serene that it's difficult to envision what it would look like packed with people. In an attempt to do so, I ask Christine what sort of students fill this room on a typical class day. She lights up at this question and launches into an excited monologue about the outrageous diversity of her clientele. According to Christine, her classes contain anyone from hip actor types to children to senior citizens. In the year that Liberation Yoga has been in business, its client roster has exactly doubled, making room for an even more varied clientele. I ask Christine what she would like to see at Liberation Yoga two years from now and she answers, without pause, "even more diversity!"
When I compliment Christine on the magical color scheme, she is careful to recognize her husband, Gary McCleery, for his shared involvement in every detail of the décor. Although Christine and Gary are both actors, they have both put their careers on hold in order to pour all of their energy into the studio. Soon, however, they look forward to utilizing the space as a part-time theater! When asked what other fabulous developments are on the horizon, Christine informs me that the studio will soon serve macrobiotic food. At this point I consider moving in.
I say this only partly in jest. There really is something undeniably homey about Liberation Yoga. I have never been in a space at once so sacred and so comfortable. Christine and I remain seated on the hardwood floor together until I lose track of time. At some point, I stop taking notes and the "interview" begins to feel more like a casual conversation among friends. When I finally get up to leave, I notice that a subtle shift has occurred. Whether it's Christine, the space, or some combination of the two, I'm not quite ready to leave.
I try on a shirt or two, just to prolong my stay of course. A few minutes later I finally leave, with the chakra T-shirt in one hand, a class schedule in the other, and a Buddha-like half-smile on my face.
Read next >> yogaworks – westlake village