la pacha mamma
Published: 22-04-2016 - Last Edited: 15-11-2022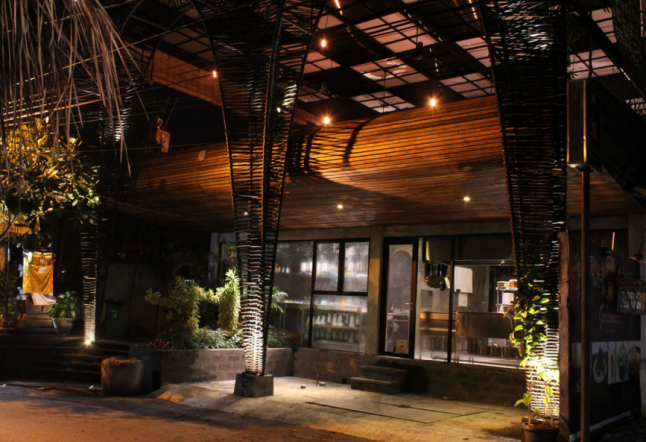 You can tell Ubud's getting more sophisticated by the minute when architecturally designed veggie Mexican restaurants start popping up in Penestanan of all places… Gone are the days of hippie warungs! (to the delight, or chagrin, of many.)
La Pacha Mama is striking for its design – big vaulted arches that rise up from a canopied inner courtyard, everything teeming with greenery and flowers with some splashes of bright colors. It's a big, well-designed space that is definitely worth checking out, about 300 square meters of kitchen (that you can peek into from the parking area), courtyard and second story bar and seating area.
The food is all fresh, organic and vegetarian, a modern twist on classic Mexican recipes, a bit of Spain and some Indonesian touches. Cocktails and juices are good and inventive and the staff is friendly, if not a little disorganized. The food is hit or miss, we were delighted by the Tacos Patron, Enchiladas and the Guacamole – the tamales and cauliflower ceviche were not as exciting unfortunately. Overall this is a fun, beautiful space with above average food that caters to vegetarians and vegans – they are new and very honest it so we expect Pacha Mamma to only improve with time.
For more info on Bali's best spots for the modern yogi STAY | SPA | PLAY | EAT | SHOP | YOGA – Download our ULTIMATE BALI GUIDE for free.
Read next >> an invigorating juice cleanse by juice and shine