la pacha mama.
Published: 10-12-2017 - Last Edited: 15-11-2022

La Pacha Mama is a gourmet Vegetarian Mexican restaurant that is passionate about delivering amazing atmosphere, service and of course, Mexican food. This is the perfect balance of a whimsical tapa bar and Bali paradise.
With floor to ceiling towering structures that are home to winding vines and a whole lot of green, made of recycled tires and a roof that reuses their rainwater. Alejandro, chef extraordinaire and visionary of La Pacha Mama wanted the restaurant to have as little impact as it could all while keeping the charm of a high-class experience.
If you know anything about Mexicans you know they are passionate about their food. Chef Alejandro is just that, passionate and up for a challenge, which is why he decided to make the restaurant mainly vegetarian and vegan.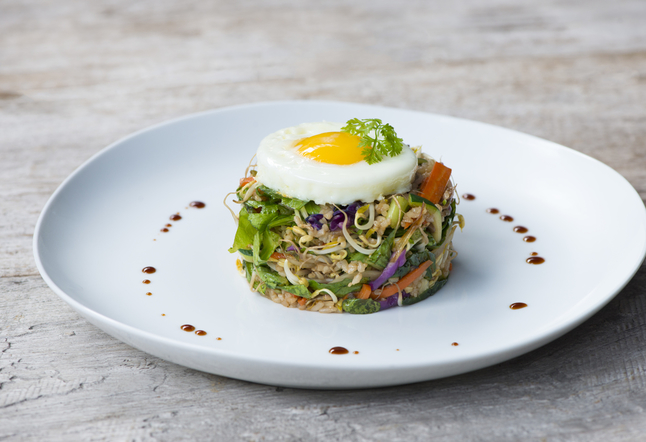 Credit LA PACHA MAMA
The menu features traditional Mexican food made completely cruelty free – even down to having vegan cheese available, which is a rare find in Bali. There is a variety of Tapas to choose from. It is an excellent place to order multiple different items and share over good conversation that will most certainly include a friendly welcome by the chef himself. The tacos, of course, are delicious, we especially love the Taco Grande.
This is more than a meal, but an experience – an experience which wouldn't be complete without handcrafted cocktails to sip in your bliss, like La Margarita, which really takes margaritas up a notch (I didn't think it was possible too).
And to finish, we highly recommend the Banana Flambe – this dessert comes with a show and will create a chain effect of everyone ordering it.
I noted that the menu was in the middle of a change when I visited – but I have a strong feeling both tacos and desserts will not be leaving the menu anytime soon.
If you're looking to get some good vegetarian Mexican food, head to La Pacha Mama, you will agree the food is delicious!
For more info on Bali's best spots for the modern yogi STAY | SPA | PLAY | EAT | SHOP | YOGA – Download our ULTIMATE BALI GUIDE for free.
Read next >> the slow