khana khazana indian vegetarian restaurant & bar
Published: 11-05-2016 - Last Edited: 16-11-2022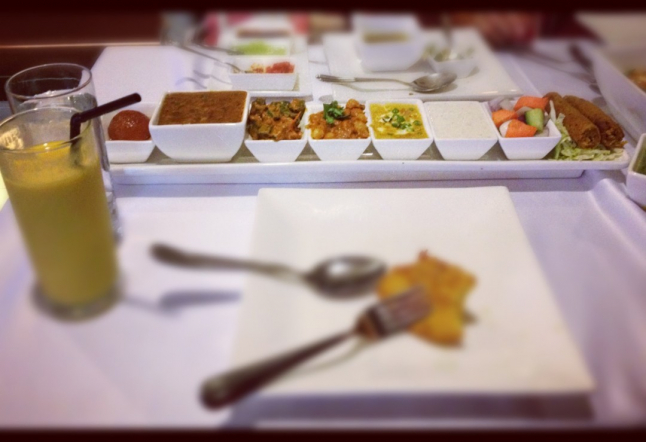 Feeling like a bit over having Western vegetarian dishes and salad every day? How about discovering Khana Khazana Indian Vegetarian Restaurant & Bar in Wan Chai. This restaurant offers Indian vegetarian dishes, which is quite rare in Hong Kong. You can go for their lunch buffet if you want to try out a variety of dishes at one time. The sweet-and-sour Mango Lassi (milkshake) that comes with the lunch will be greatly appreciated when you are having spicy curry dishes.
Khana Khazana is a nice place with good ambiance. They play Hindi songs in the restaurant and make you feel like you are in India! The place is big, bright and clean, with simple and minimal decoration and design. Located on the 1/F of the building, it is a relatively quiet place for us to enjoy a meal in Wan Chai.
There are a few religions in India that follow a vegetarian diet, including Buddhism, Hinduism and Jainism. The restaurant only offers vegetarian dishes and are happy to serve Jain food, excluding garlic and onion for you too. Apart from the Northern Indian cuisine that Hong Kong people have grown accustomed to, they also have Southern Indian food which is fairly new to the Chinese culture.
You can find many tempting Indian dishes on their menu. Haryali Kebab, the veggie kebab, is quite refreshing as it is mainly spinach with different herbs and spices. For vegetarian curry, you can try the Butter Paneer if you are a cheese lover. It is made of butter curry and cheese balls, it's very creamy and chewy! For Indian bread, naan, they offer 3 variations: plain, butter, and garlic. All are well seasoned and baked, very crispy, and finger-licking good, especially when paired with the curry.
Khana Khazana is a good place to start your vegetarian diet while keeping your stomach and appetite satisfied, veggie curry is heavenly tasty!
Read next >> simplylife bakery café