kermit surf & yoga resort on siargao island
Published: 19-04-2017 - Last Edited: 09-11-2022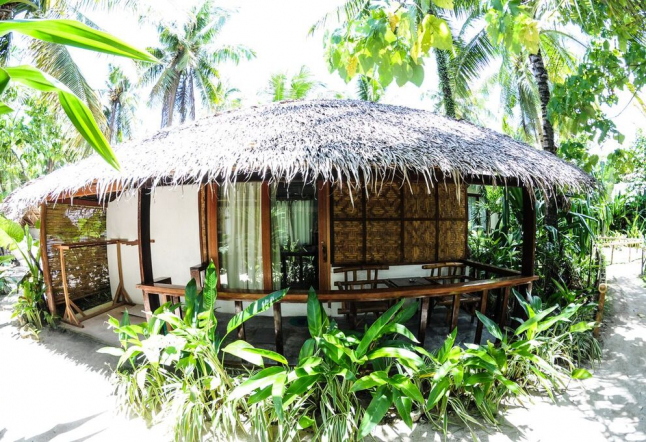 The Philippines is probably not the first destination you think of when selecting your surf/yoga holiday. Yet the small tropical island Siargao has over fifteen amazing surf breaks for all levels, reachable by a bit of paddling, motorbike or boat.
Looking for a great place to stay? Kermit Surf Resort is created by surfers for surfers. We love the eat-sleep-surf packages offered for all levels. You'll have your own room with seating outside overlooking the wild tropical garden, a wide-ranging breakfast, a hang out spot to relax and meet other surfers to share your experiences with, vinyasa yoga classes by two local teachers, massages, and various activities like a tour to the Lagoon and remote islands. Last but not least, the best of this place has got to be the surf instructors and restaurant.
The team of surf instructors, 'Gwapitos', is very professional. Some of them are even international champions! The team has a positive spirit. They take you on a motorbike and bring you to the most beautiful surf spots, depending on your level and the tide. The ride itself is an amazing adventure through the jungle.
Watch out. Kermit has the best restaurant of the island and is famous for their homemade pizzas and pastas.They also serve appetizers, dishes from the seafood market, Philippino, Asian and Italian meat dishes, sandwiches, wraps, and salads. The restaurant is packed every day, but they always keep tables free for their in-house guests. We loved the Mediterranean Poke Salad with raw fish served with chickpeas, Baguio beans, mango sprouts, avocado and seasoned couscous. But to be honest, the mouthwatering smell from the wood oven made us choose for pasta or pizza almost every night. Our favorite was the Gnocchi al Gorgonzola with walnuts and a pizza with anchovies, tuna, and capers. Save some room for the dessert. The Choco Lava Cake with ice cream is to die for!
When you stay a few days at Kermit, you become part of the family. The waitress girls are adorable and the surf instructors the coolest guys from the island. You really feel their passion in their work and love to have you, and we were sad to leave after a few days too!
Read next >> the sticks