kayu cafe
Published: 07-01-2015 - Last Edited: 09-11-2022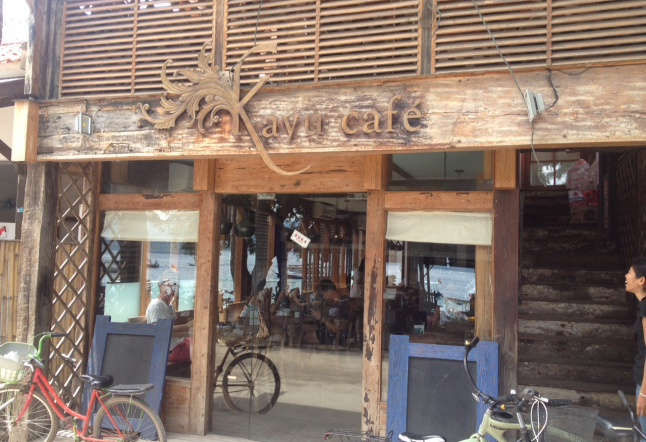 Kayu Cafe is a trendy healthy hub with a clean and upbeat atmosphere. Kayu (which means "wood" in Indonesian) is located on the main street of Gili Trawagan, just left past the boat arrival (about 2-3 minutes walking distance).
The decor is simple yet warm and inviting with an air conditioned room in which to enjoy your tea or coffee. They serve real Illy coffee from an Italian espresso machine. The menu is large enough to enjoy a few days of new dishes and the portions are reasonable. The vegetarian wrap and the Haloumi Quinoa salad are amongst the favourites.
Located upstairs is a small but well-shelved convenient store where you can find many items from the famous Bali Buda in Bali (eco-sunscreen, coconut oil, organic soaps, nuts, goji berries, dried fruits etc.) This is the perfect first stop off the boat to stock up on healthy snacks before heading to your hotel and also to enjoy a healthy breakfast, lunch or dinner upon arrival.
The owners' demonstrate with this Cafe, that even on the islands of Gilis you can maintain your conscious diet. Kuddos to them, especially when you are aware that everything gets imported from the mainland (Lombok or Bali, which are themselves big islands.) After a few days you quickly get a deep appreciation for the choice of healthy options compared to the other touristic cuisine being offered on Gili Trawagan.
The cafe extends across the street with a small outdoor comfortable room to sip juice while watching the sunset. Wifi is available all day.
Delivery 9am – 8:30pm – (Minimum $10) – +62 878 6427 6548 / +62 812 8062 6493
For more info on Bali's best spots, including STAY | SPA | PLAY | EAT | SHOP | YOGA – Download THE ULTIMATE BALI GUIDE 2018 for free here: http://bit.ly/BALIGUIDE2018
Read next >> afterglow by anglow