jungle yoga
Published: 20-08-2015 - Last Edited: 09-11-2022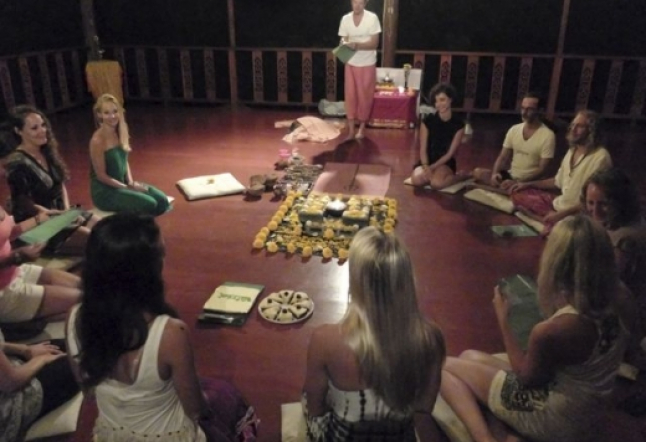 International yogi, Randall O'Leary, is the founder of Jungle Yoga. The American native, has spent the last twenty years studying yoga under various teachers in India. Randall speaks of yoga as "a life long journey; a way of life – constantly learning, growing, and changing". After years of being hassled by friends, Randall, finally opened his own Jungle Yoga school, in 2007. His location: the lush environment of, The Sanctuary. For Randall, teaching in nature is an important aspect. Randall believes in "staying true to the authentic teachings, loving/enjoying yoga, and spreading wisdom". Although Koh Phangan is best known for its wild full moon parties, a short boat trip away, takes you to this hidden gem on Haad Tien beach. Here you have access to some of the best yoga teachers in the world, a well-run detox and wellness centre, International alternative therapists and healers and a vegetarian restaurant on the beach. Even the yoga salas are up in the jungle.
Randall now runs level one and two courses twice a year, at his beloved Sanctuary. The purpose of Jungle Yoga, is not so much a teacher training focus, like many other schools, but to learn and practice as a way of life. Randall's goal is simple: for the student "to feel transformed and significantly better than when they arrived". Students are encouraged to tailor their days to suit their energy levels and mood. Students are also encouraged to listen to their intuition. He creates a supportive environment that assists in understanding yourself: where you are in your practice and in your life, rather than blindly following. Former U.K. student Bob simply says, "He is the best teacher here".
For Randall, it is not just about asanas or churning out teachers, but to teach the essence of yoga through a mixture of poses, meditation, breath, and mantras. This also includes the philosophy and continuous discussion of various topics and techniques. It is an endless and ever-changing journey. He emulates the traditional life skills that yoga has cultivated; a teaching that promotes wisdom of living, clarity, health, and an increase in personal happiness. Portugese student, Andre, was keen to express his gratitude for Randall's wisdom and honesty, saying he "subtly unpacks deep truths that get to the heart of yoga practice. The more you get into it, the more you realise how intuitive his teaching is". Randall is known for his laid back attitude, openness and humour. Former Australian student and assistant, Hayley, says he "uses humor to help put his students at ease; to not take spiritual practice too seriously. He is deep but incredibly light in his approach".
The level one course is four weeks long at Jungle Yoga. It's goal is creating a deeper yoga experience while learning how to implement yoga practice and philosophy; to create a more balanced life. The level two course is six-weeks long and consists of subtleties. It is for those wanting greater commitment to a deeper level of energy, deeper practices, and more philosophy. He believes if students truly love and understand the practice, with time and dedication, they can become great teachers. Both courses provide a certificate of completed hours.
Both courses include weekly 'reggae yoga', where they practice with music. At the end, the students will have a giggle and remember the fun, stress-free aspect of learning and practice. He smiles at the mention of reggae and says its purpose is "to be light and not so serious". He also does evening meditation over fire pujas to mix things up. According to Hayley, Randall's courses offer "much more than just a physical exploration of yoga. He really facilitates a space, where you can access tools, to build pranic energy and a strong practice on or off of the yoga mat." Who wouldn't want to do yoga here?
Randall splits his year between his personal practice in India and co-collaborating on yoga training at the Yoga Barn in Ubud Bali. He also spends time visiting teachers in Byron Bay Australia, and teaching Jungle Yoga courses at The Sanctuary in Thailand.
You can find out where he is next at thesanctuarythailand.com.
Read next >> vancouver school of yoga