jungle room bali
Published: 27-11-2017 - Last Edited: 12-08-2021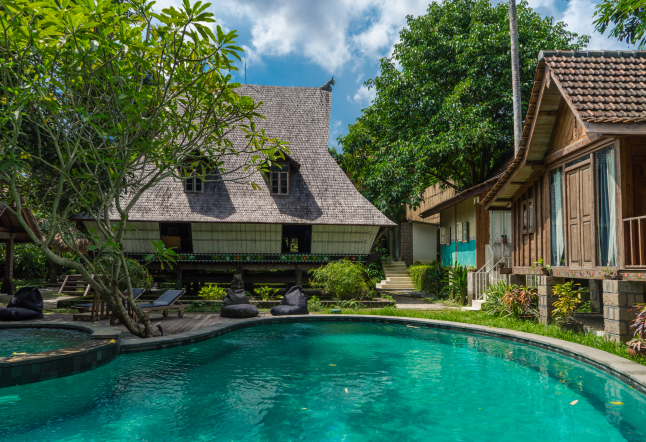 If you are looking for tranquil luxury, look no further than the Jungle Room Bali tucked away amid the jungle and rice fields in Canggu. As a surfing, yoga and cultural hotspot, Canggu is the perfect location for these luxurious jungle styled Villas and amenities. Offering simple elegance inside and out, the Jungle Room Bali is like no other.
Each of the six villas gracing the property is unique, cozy and built entirely out of wood in traditional Balinese style. Some villas are made out of beautiful teak wood. The villas vary in size, from one to three bedrooms, meeting the needs of travelers. The villas are decorated with an array of eclectic and unique pieces- adding to the luxurious jungle ambiance. The Jungle Room's website provides as an expansive look at each of the six villas, with detailed photos displaying the uniqueness of each, enabling travelers to visualize and immerse themselves in the space even before arrival.
The vast grounds of the property enhance the tranquility and peacefulness you can't help but feel once you are here. The surrounding trees have their names hanging on rustic wood panels, which may encourage a deeper connection for those travelers who branch out with tree-hugging, an easy thing to do in the presence of the majestic forest. Hammocks, both lounge and chair style, abound, providing a place for quiet reflection and rest.
For those who wish to start their morning off with Yoga, a wide variety of classes are held every day at 9:00 a.m. From Vinyasa Flow to Smiling Heart to Yoga for Surfers, Ashtanga and Sunday Night Slow Flow, the open and airy Jungle Yoga studio provides a beautiful and grounding place to practice. The Yoga Studio has abundant views of the forest, creating an energetic and magical environment. Pratchyara is available to all!
Complementing the villas, beautiful grounds, and inviting Yoga space, is the jungle bar that serves Bali's famous coconut water and healthy food options like avocado toast with eggs and spirulina and scrambled tofu with veggies. Other delights like vegan banana ice cream and smoothie bowls are some of the treats you can indulge in while gazing at the view. Organic cold pressed juices and smoothies are also available providing a refreshing treat. If you prefer to cook your own meals, Villa Mango, a three room, three bathroom wooden house offers a fully equipped kitchen.
The saltwater pool is available to all. A plunge in the water in the midst of the jungle on a warm day is the perfect way to replenish every soul.
Each booking includes complimentary breakfast, wi-fi and yoga. If you're looking to experience a tropical, jungle paradise- spend the night at Jungle Room Bali, your ultimate escape will have you feeling wildly in joy, harmony and balance.
For more info on Bali's best spots for the modern yogi STAY | SPA | PLAY | EAT | SHOP | YOGA – Download our ULTIMATE BALI GUIDE for free.