Jeff Wells
Published: 02-05-2022 - Last Edited: 09-11-2022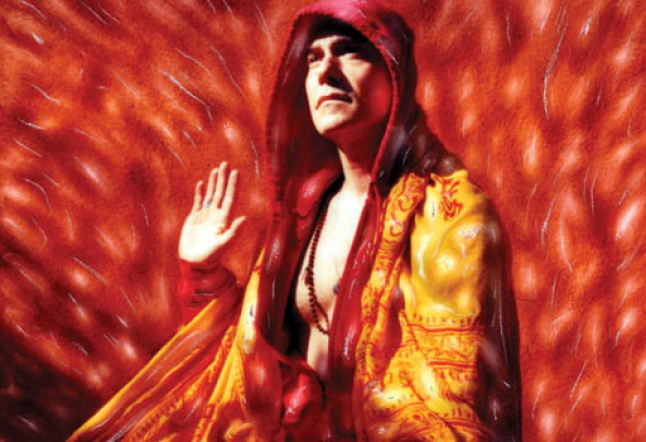 a yoga teacher out of the ordinary
Jeff Wells awakens between 3 and 4 am. It is pre-dawn, before the sun has given rise to the world.

Birds have not yet sung their morning melodies, early commuters are still enjoying a few more hours of slumber, and the shifting shades of sky keep the burgeoning day cloaked in a comfortable state of darkness.

The quietude allows for transcendence as Wells and his beloved partner, Bill, breathe into the stillness of their daily meditation practice.

They will conclude their Sadhana (spiritual practices) with mantra and then slip back under the covers for a precious extra hour or so of sleep.

(The mantras will continue inside Wells' head all day long, and even continue to play in the house to charge the atmosphere.)
By 10 am, at Revolution on Montana Avenue, ten blocks east of the Pacific Ocean, the rock band Depeche Mode is blasting inspiration from the powerhouse of a sound system, while pedaling feet are dancing circles as fast as they can.

Faces are dripping with perspiration, clothes cling to the stationary cyclists, and at the head of this spinning fury is the compact, cheerfully cherubic Jeff Wells gleefully pushing his students to maximize their burn.
Also Read>>> Online Yoga School
On another day, he stands before a sea of Downward Facing Dogs in the beautifully serene, sunlit YogaWorks studio in Pacific Palisades.

Annie Lennox's sultry voice sings "Money Can't Buy It" as Wells offers clear, concise instruction for deepening into yoga poses. In both instances, it makes me smile to wonder if his students have any clue that their teacher lives an extremely austere life, a life void of unnecessary chatter and distraction.
Three years earlier, Jeff Wells made a conscious shift to dedicate himself to living the life of a Yogi.

He met his teacher, Sri Shankaracharya, and began weekly attendance at the Sadhana Ashram, immersing himself in devotion to the Divine Mother (bhakti yoga) and the esoteric practices of Kundalini Maha yoga.

The teachings inspire Wells to respond to his surroundings as though everything is a manifestation of the divine and therefore he journeys throughout his day honoring the divine in everything and everyone.

Jeff Wells also converted his vegetarian regimen to a raw food diet to eat "closer to the earth, and stay connected to the source."
For anyone who has attempted this lifestyle change, it is a huge commitment of time, energy, and deep intention.

It is not, as I once presumed, simply the consumption of cold carrots and leafy greens. In order to balance the body, mind, and spirit one must learn an entirely new way of purchasing, preparing, and consuming food.

The stove has been removed from his home, unnecessary for meals made in blenders and bowls.
Fresh herbs are grown and produce is procured almost daily from organic farmer's markets.
Jeff Wells Days are devoted to lovingly preparing nutritious meals in silence.
There is minimal conversation in the sacred space of home.

Time there is dedicated to the moving meditation of life through spiritual practices, study, and reading books (jnana yoga) recommended by their Guru and teacher, Shankaracharya.

(Jeff Wells is currently reading Kashmir Saivism by L. N. Sharma and Science and Spirituality by Amit Goswami — not exactly John Grisham.)

There are no televisions or unnecessary stimulations from the outside world. Wells' devotion to elevating his state of being is the ultimate aim of his life and therefore his teaching practice.

It is about seva, being of service (karma yoga). "I want to touch people where they are," he says. "For some that means a spinning class, for others it will occur in the sacred space of the yoga studio."
Jeff Wells had not always been so centered and calm.

Decades before his pre-med studies and Bachelor of Science degree from U.C.L.A. in Kinesiology led him down the path to becoming a personal trainer, spinning instructor, and yoga teacher, he had been a consumer of good times.

While the rock & roll of those days remains a source of inspiration in the music that is backdrop to his yoga classes in los angeles, the larger truth is that Wells lives as a Yogi who happens to make his living teaching.

He is beginning to allow glimmers of that Yogic self to shine through.
His lifestyle choice is essentially personal and not necessarily something he wants to foist upon his students.

His real aim as a yoga and spinning teacher is to liberate the suffering of the soul by becoming the change, not by preaching it.

Jeff wants you to have a good time, let go of the daily grind of perfectionism and relish in the joy of being on the planet.
Early inspiration came from Siddha Yoga, a more philosophical approach of the ancient tradition.

The wide vista that yoga presented opened Wells quite slowly into transformation. Initially he was not ready to forfeit the transitory hedonistic and ego pleasures of modern life.

Eventually retreats under the guidance of Steve Ross, founder of Maha Yoga, began to cultivate a rapt desire for moving beyond those earlier limitations.
The training and practices Ross taught inspired monumental shifts in his lifestyle.

Additionally yoga practice with Vinnie Marino of Yoga Works encouraged Jeff Wells to take his own teaching to the next level. "Marino is an exceptional technician and extremely knowledgeable.

I knew if I wanted to teach I needed to broaden my comprehension of not just the philosophical, but also the physical practice."
In time, it became clear to Wells that if the world ended tomorrow he was content that he was exactly where he was meant to be in life, doing precisely what he is on the planet to accomplish.

"If I can assist people to change their lives through yoga, the way the teachings have profoundly changed my life, what a blessing. If addictions drop away and there is comfort inside one's skin, then I have done my job."

Check out his Yoga Schedule on YGLO
More on Yoga in Los Angeles.
Read next >> hala khouri