insalata's
Published: 23-11-2011 - Last Edited: 15-11-2022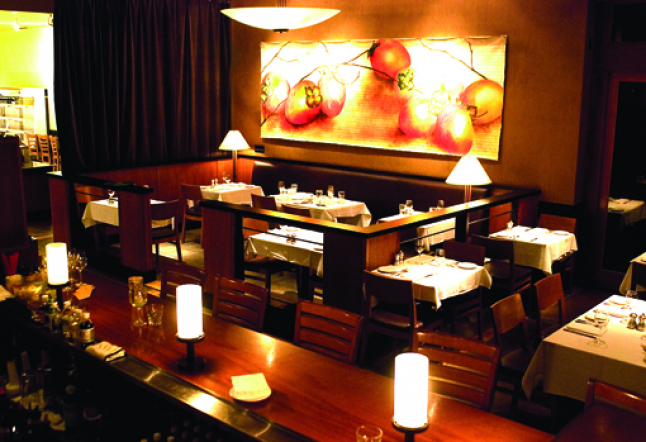 As a long time Marin resident, I must confess that getting a good meal within the county isn't an easy task. Despite the affluence of the various communities, it seems that truly fine dining is reserved for nights out to San Francisco. So I was excited at the prospect of finding a restaurant that would serve as a dining destination in San Anselmo.
Insalata's aptly describes itself as "upscale Mediterranean" with a "soulful, rustic style." Chef/owner Heidi Krahling opened Insalata's in 1996 after several stints as a professional cook, including time with Joyce Goldstein at San Francisco's acclaimed Square One where she became enamored with all things Mediterranean. Named one of the Top Female Chefs in the Bay Area by Via magazine, Krahling has received accolades from Gourmet, Food and Wine and Esquire; she was also named the Best Woman Chef in the country by USA Today.
Krahling has close relationships with West Marin farmers, including Star Route and Fresh Run, two certified organic farms in Bolinas. She purchases cheeses from Cow Girl Creamery in Point Reyes Station, and she frequents various local farmers' markets. An active member of the community, Insalata's is over 50% organic.
A key member of Krahling's team, manager and wine director Jim Warren is in charge of all front-of-house operations. From the maitre d' stand, where the staff offered us various available seating options, to our waitress, who was friendly, efficient, and knowledgeable about the menu, Jim's stamp is evident. His wine list includes an eclectic selection of wines by the glass, as well as fairly priced bottles from around the world, all gathered to accentuate the Mediterranean cuisine.
Insalata's has an extensive take-out section accessible through a separate entrance, expanding the scope of the cuisine offered in the dining room. Options range from al a carte items, sauces and condiments, cakes and boxed lunches to Mediterranean-influenced platters from a strikingly diverse list, including North African, Californian, Mexican and Asian. Insalata's also offers catering, from intimate dinners to huge events with hundreds of guests.
The dining room showcases natural wood accents, soft colors, and several considerable paintings of vibrant stone fruits. The back of the dining room overlooks the open kitchen. Although most tables were full, the noise level was low to moderate; the room has high ceilings and is broken up by two slightly different levels and a central bar facing one side of the dining area.
Insalata's menu is easy to read, broken into Tapas, Greens and Things, Pasta and Grains, Meats and Poultry and Seafood. The tapas selections included three different dips; the best way to experience them is the $12 Trio of Dips, which is served in elegant tapered square dishes set on a rectangular square platter with pita bread. The hummus, the smoothest rendition I've ever tasted, has a luxurious feel and deep flavor. The hauriya is a puree of carrots and harissa chili paste topped with zaatar, a blend of sumac, thyme, sesame seeds and extra virgin olive oil. This dip is bright and earthy, the zatar adding a welcome complexity. The third dip, tirosalata, a blend of anaheim and poblano chilis, feta cheese, yogurt and garlic, is light and lively, providing a refreshing contrast to the other two richer dips. The Crispy Brik Pastry ($8) is akin to a Mediterranean egg roll and is served with a delicious yogurt sauce. The stuffing of tabil, spiced potato, spinach, onion, and feta is flavorful and well executed.
A signature item at Insalata's, and one not to be missed, is the Syrian Fattoush Salad, a generous portion for $9. Crispy pita takes the place of croutons, the kalamata olives are pitted, the parsley is abundant, and the feta cheese and seasonal cherry tomatoes are in perfect proportion.
We tried two dishes from the pastas and grains section, both $16""the Tagliarini and the Middle Eastern Inspired Vegetable Platter. The pasta dish includes julienne zucchini, squash blossoms, pesto, pine nuts and ricotta salata. Rich and intense flavors combine with tender flat noodles and refreshing cheese. I preferred the Middle Eastern platter, featuring lemony lentils, eggplant, curried spinach, onions and Turkish yogurt, served over a bed of couscous. The couscous is delightfully light and airy, the lentils are succulent and the onions are gently braised.
Insalata's combines a comfortable environment and casual elegance with shades of fine dining. The cuisine has flavors that are at once bold and delicate. An avowed foodie, I always crave a good meal, from hole-in-the-wall joints to five star restaurants. While my preconception of Mediterranean cuisine lent itself more toward the hole-in-the-wall end of the spectrum, one of the most refreshing aspects of dining out is having preconceptions shattered, and Insalata's manages just that. Marin County has no shortage of spots worth visiting that afford a casual, satisfying bite. The challenge comes when seeking a dining experience. Insalata's successfully bridges the gap. It inspires a visit to central Marin.
Read next >> tru spa