hotel villa sayulita
Published: 10-01-2018 - Last Edited: 09-11-2022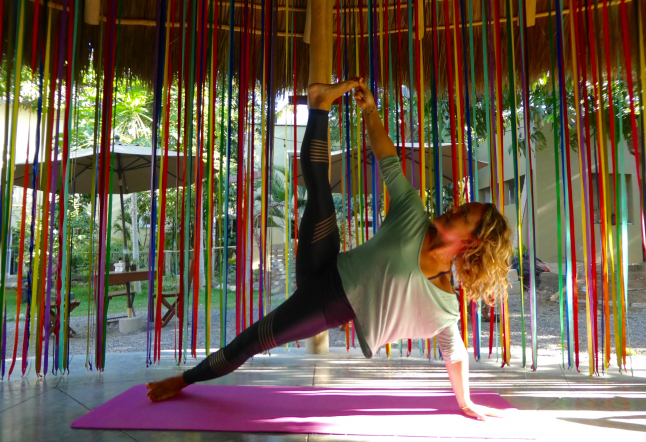 Villa Sayulita is a lovely hotel with a secret garden decorated with comfy hammocks and home to an array of ducks, dogs, and chickens. Here you can join a yoga class accompanied by clucking! Or enjoy a healthy shake from the smoothie bar and have the dogs come for a cuddle. We loved this intimately green sanctuary nestled amongst beautiful trees filled with tropical birds.
While the heart of Sayulita can be noisy due to celebrations in its numerous bars, tucked only a 7-minute walk away from downtown Sayulita this northern area of town is much quieter. We recommend heading to the beach down here too. In comparison to the main beach, an oasis of calm awaits you only a block away from the hotel.
They have created a wonderful sense of community at Villa Sayulita. With daily yoga classes and live music every Saturday morning in the garden. The vibe is tranquil, even during the nights because no loud music is allowed past 10 pm.
The charming couple, Salim and Sabrina, who manage this boutique hotel strive to make Villa Sayulita eco-conscious. There is a backup water supply, a generator, and there are even compost bathrooms in the grounds. Their breakfasts and smoothies are made using local produce and fresh ingredients from their own permaculture garden. A new kitchen is opening soon where guests will be able to sample their garden-to-table cuisine for lunch and dinner. They use eggs from their roaming chickens and ducks while promoting waste management throughout the hotel.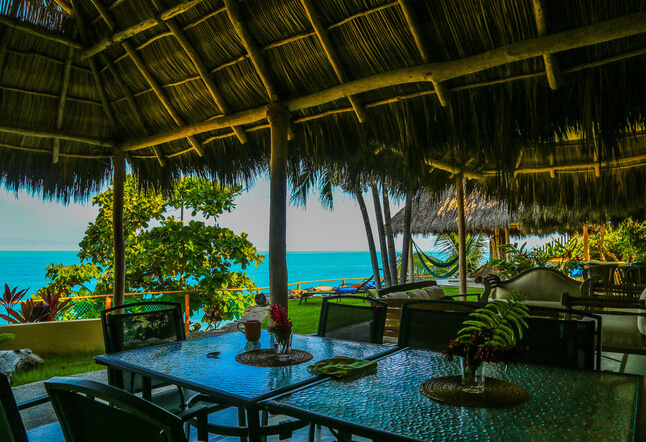 Credit Villas Sayulita
The beautiful pool area is surrounded by tropical palm trees. For healing and ritual experiences you can use the temazcal, which is a traditional sweat lodge. Known for promoting physical wellbeing as the body rids itself of toxins by sweating. Boogie boards, paddle boards, surfboards, chairs, beach umbrellas, beach towels and bikes are available for rent at the hotel. The staff is incredibly helpful when it comes to arranging activities, with suggestions on where, when and how.
We loved the variety of yoga classes and spaces at Villa Sayulita. They offer Vinyasa, Hatha, Yin, and Ashtanga. There is an outdoor yoga deck on the rooftop overseeing the sunrise, an indoor yoga space decorated with a beautiful circle of life mural and an open-air garden shala. If you are looking for a great spot for your training or retreat, you should consider Villa Sayulita as they are now offering to play host for all your yogic needs.
The rooms are spacious and clean with comfy mattresses, not to mention the AC, kitchen, fridge and a bathroom en-suite! If you get the chance, ask for the generous penthouse, with its own terrace and hammocks for some added privacy.
Villa Sayulita is a peaceful place. Come and purify yourself in this luscious haven with healthy food, inspirational yoga and positive vibes from the extremely welcoming and helpful staff who created and run this wholesome space.
Read next >> breathing love: meditation in action