Hotel Figueroa Combines History, Art and Value
Published: 30-08-2013 - Last Edited: 08-11-2022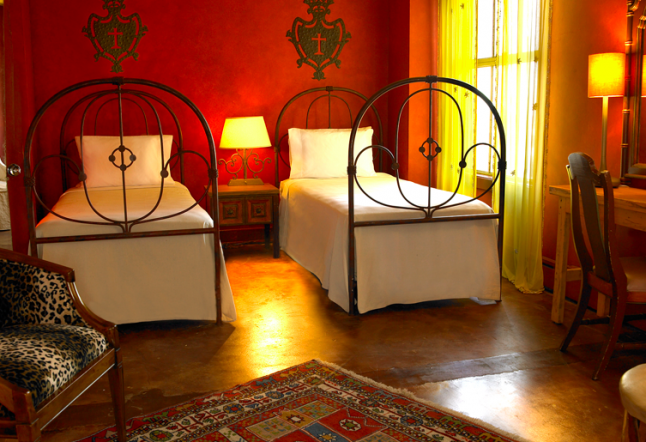 Uno Thimansson spent time in Morocco during his youth, and it shows in Hotel Figueroa, his gorgeous downtown L.A. boutique hotel. What you'll find inside: a dark, high-ceilinged lobby full of fake palm trees and wooden sculptures, ornately painted elevator doors, a cactus-surrounded Jacuzzi, and art everywhere.
What you won't find, however, is room service, bell hops, coffee makers, clocks, skin lotion or any other bathroom amenities beyond soap and shampoo.
"I put it right on the home page that this was a YWCA built in 1925," Thimansson said. "It's a tourist class hotel. I couldn't be more explicit." Fussy guests who can't live without room service? "I send them across the street to the Luxe. They just did a 15 million dollar upgrade."
But those who value beauty above modernity couldn't be happier. Instead of the sterile conformity of most hotels, your room might have floor-length, yellow velvet curtains trimmed with sequins, or an exquisitely tiled sink. You could rest your eyeglasses on a hand-carved nightstand, or apply lipstick in front of an ornate Middle Eastern-style mirror.
Where did this vision come from? Thimansson left his native Sweden as a teen to spend summers washing dishes in Morocco. He developed his eclectic style on his travels. "I was always inspired by colors," he said. "But I have no particular expertise in art." Expert or not, his love of beauty shines as he points out wall hangings from Iran, and discusses his devotion to Colombian artist Fernando Botero.
In the evenings you can swim in the pool or drink at the bar. An on-site café offers an a la carte breakfast buffet and limited dinner menu. Vegetarians can order the angel hair pasta for dinner. For breakfast, choices include cereal, scrambled eggs, potatoes, pancakes, rolls, muffins and steamed rice. Each item costs about a dollar. Wash breakfast down with espresso drinks. Situated two blocks from the convention center, the hotel and café are bargains.
During an August 2013 stay, a spacious room cost $134. Which is much less expensive than a ticket to Morocco.
Read next >> two bunch palms resort & spa