petit hotel d'hafa
Published: 26-11-2017 - Last Edited: 09-11-2022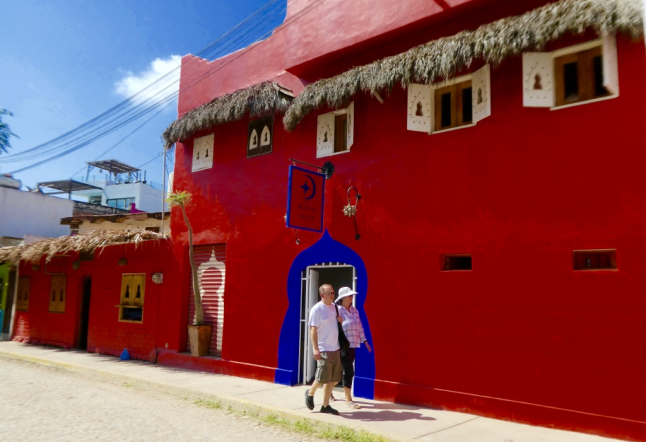 We fell in love with this cute boutique hotel in the heart of the surf/yoga town of Sayulita on the Pacific coast of Mexico. Petit Hotel d'Hafa has so much character. The building alone is an eye-catcher, hard to miss when you walk down the street. The walls are painted a beautiful bright red with blue decorated doorways. We couldn't wait to enter. And we can honestly say: more fancy artistic décor is waiting for you inside!
The owners Marina and Christophe lived on a sailboat for ten years. It had always been a dream for them and their sons to own a small hotel near the ocean. When they discovered Sayulita, it didn't take long to find a place and make their dream come true. We love these kind of stories!
While staying at Hafa, you really feel like you are staying in a home. So much soul by the intermingling of Mexican, Moroccan and Mediterranean influences. All six rooms are unique, yet spacious and clean, with comfortable beds and groovy open bathrooms with copper sinks. As the hotel is close to the central plaza, it can be a little noisy at night. However, we slept like a princess with the earplugs they provided.
Best of all are the communal spaces, super colorful and uniquely designed with a tropical bohemian touch. Funky pink painted walls and welcoming heart-shaped decorations are everywhere. We really enjoyed the rooftop chill out lounge, with its charming lanterns, amazing huge palm trees and cactus plants along with great views overlooking Sayulita. Absolutely stunning! A magical little private sanctuary in the middle of the hustle and bustle of town. Great to lounge in the shade during the day, to have a drink in the evening and to do your morning yoga practice!
They offer fresh coffee and tea every morning and each room contains a mini fridge to store cold drinks. A nice touch! The hotel has no restaurant, but there are lots of great juice-bars and healthy (vegetarian) restaurants close by. The owners run a great bar down the block and a boho-chic store with unique jewelry made of leather and pearls and handmade crafts from local artists.
We loved the arty neighborhood where Hotel d'Hafa is located. Lots of boutique shops and a yoga studio nearby. Only two blocks from the beach and if you love to hike or run, within 10 minutes you can be in the middle of the Nayarit jungle. Magical.
Read next >> greenhouse