the herbivores
Published: 10-05-2016 - Last Edited: 16-11-2022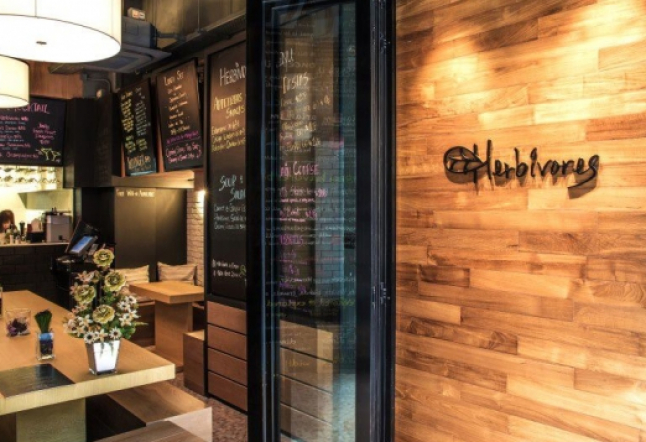 The Herbivores is definitely a restaurant for vegetarians, or simply said, herbivores! Quaint and cozy, this small restaurant is located in the crowded SOHO area. Yet, it is a quiet place to enjoy a relaxing meal. There are not many seats, with only a table at the corner and a long, wooden dining table that can be shared by 10 to 12 people. So, if you want to have your own table, make sure you call them beforehand.
The Herbivores' goal is to bring vegetarianism to everyone, especially to non-vegetarians. Even non-vegetarians cannot refuse those incredible vegetarian dishes. It is easy to see their cuisine on their menu, which is displayed on the wall and a blackboard. They offer Italian food, as well as some Japanese-inspired dishes as some of their chefs previously worked at the Japanese restaurant ROKA. The Japanese dish Plum Linguini is definitely worth a try! It is linguini tossed with dried basil, topped with Japanese marinated plum and seaweed. The sour, salty and sweet flavors are well balanced.
Tofu Box is one of their signature dishes that suit Buddhists (It excludes garlic and onion) and is made of mashed tofu, stuffed with risotto, cheddar cheese, miso paste, and sesame, sided with grilled asparagus and mashed kernels. They also specify a vegan option, which excludes eggs and dairy products.
Customers with different dietary restrictions can enjoy a guilt-free and healthy meal in The Herbivores all together!
Other Locations:
Causeway Bay: 9/F, Hysan Place, 500 Hennessy Road, Causeway Bay
t: (+852) 26132920
Tsim Sha Tsui: 3Floor, Star House, Tsim Sha Tsui, Kowloon
t: (+852) 39050093
Sheung Wan: No. 34, Tai Ping Shan Street, Sheung Wan
Read next >> so…soap+