the herbivores
Published: 10-05-2016 - Last Edited: 03-09-2023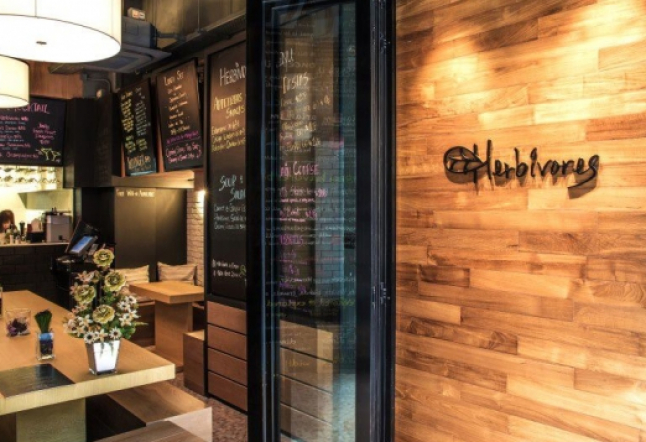 The Herbivores serve as a guiding light for vegetarians and, more accurately, herbivores, as it is tucked away in a quiet corner of the SOHO sector, which is filled with busy streets. The restaurant radiates an atmosphere that is at once unpretentious, friendly, and genuine.

Those looking for a calm and relaxing eating experience will find it an oasis due to the quaint atmosphere that contrasts with the busy surroundings. Its restricted seating, which consists of a corner table and a communal hardwood dining table with space for ten to twelve diners, creates an atmosphere of closeness.

Because of this, making a reservation in advance is strongly suggested if you are the type of person who values their privacy.
The Objective: To Promote Vegetarianism Across the Board
A vision is at the core of The Herbivores, and that goal is to share the pleasures of vegetarianism with everyone, including vegetarians and those who do not practice vegetarianism. Their culinary delights are so mouthwateringly delicious that even the most dedicated carnivore would have difficulty turning them down.

This welcoming attitude is made clear by the restaurant's varied menu, which is prominently displayed on the wall and written on a chalkboard that is adjacent to the wall.
A Melding of Different Tastes
The world's cuisines are represented in a delicious way on their menu. Diners have a plethora of options to choose from, including meals influenced by both traditional Italian cuisine and sophisticated Japanese cuisine.

The fact that some of their chefs had previously worked at the world-famous Japanese restaurant ROKA is the likely source of the restaurant's infusion of Japanese characteristics.
One food that sticks out is the Japanese delicacy known as "Plum Linguini." This masterpiece comprises linguini that has been lavishly mixed with dried basil and is topped with Japanese plum marinated in seaweed. The finished meal is a symphony of tastes, with sour, salty, and sweet notes all dancing together on the tongue in perfect unison.
Signature Dishes and Personalized Ordering Options
The "Tofu Box" should be singled out for particular praise. This recipe, explicitly designed for Buddhists, omits garlic and onion from its ingredients. The base of this dish is mashed tofu, which encases a delicious filling made of risotto, cheddar cheese, miso paste, and sesame seeds.

The grilled asparagus and mashed kernels served on the side are the perfect finishing touches for this combination. Those who follow a vegan diet to the letter won't be disappointed to learn that The Herbivores hasn't forgotten about you.

They are so considerate that they provide a variation of the Tofu Box that does not contain dairy products or eggs.
To Meet the Demands of Any Dietary Preference
The Herbivores is not only a dining establishment in and of itself. It demonstrates how different eating styles may coexist in the exact location. This institution makes it its mission to accommodate patrons who follow a vegan or vegetarian diet or have other dietary limitations and celebrate those with these preferences.

Every dish served here is not only delectable but also good for you and devoid of moral repercussions.
In conclusion, The Herbivores is not just a restaurant but an experience in and of itself. An experience that is rich in taste welcomes everybody and features innovative cuisine.
Other Locations:
Causeway Bay: 9/F, Hysan Place, 500 Hennessy Road, Causeway Bay
t: (+852) 26132920
Tsim Sha Tsui: 3Floor, Star House, Tsim Sha Tsui, Kowloon
t: (+852) 39050093
Sheung Wan: No. 34, Tai Ping Shan Street, Sheung Wan
Read next >> so…soap+