Harlow in S.E. Portland
Published: 10-03-2014 - Last Edited: 09-11-2022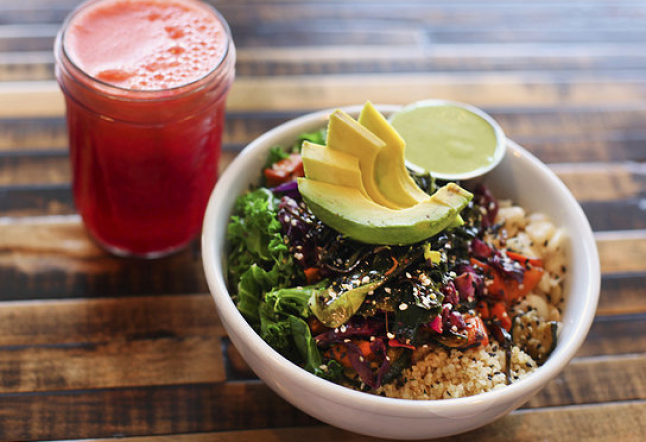 Harlow opened in the summer of 2013 to enthusiastic Portland crowds. Karen Pride and Brittney Galloway, who already own Prasad, an established vegan restaurant in the Pearl District, wanted to offer a gluten-free menu in Southeast Portland.
The space has an open, modern feel with shabby-chic elements. You can sit at a repurposed communal table under a row of glamorous but mismatched chandeliers, or at your own individual four-top or two-top. At noon, it's absolutely packed with a long line of people waiting to place their orders at the counter.
Harlow is open for breakfast, lunch and dinner. Sweet breakfast choices include chia and hazelnut milk pudding, a parfait of housemade granola, fruit and vanilla cashew cream, or lemon poppy quinoa pancakes with blueberry compote. Or choose a savory start, such as a vegetarian take on huevos rancheros featuring kale, cilantro and jalapeno cashew cheese.
The lunch menu becomes available at 11 am. It focuses on bowls and salads. The African peanut bowl is especially good, with a peanut stew ladled over your choice of brown rice or quinoa, served with steamed greens and topped with lime-flavored peanuts and cilantro.
Dinner, which starts at 5 pm, includes creative raw choices, such as The Portlandia Rawsome Burger, made from sunflower cheese, dehydrated tomatoes, spinach and other wholesome ingredients. It's served with the raw onion bread, which you should approach with caution, as that bread can stay with you for days. The utopian raw pasta is another raw option, which combines shredded green papaya, collard greens, carrots, scallions and broccoli. Instead of being tossed in the usual peanut pad thai sauce, Harlow makes theirs with almond butter.
The food menu is impressive, but Harlow really outshines just about anywhere in Portland with its drink menu. The choice of smoothies is astounding, featuring an endless parade of healthy ingredients like avocado, maca, dates, hemp seeds, coconut oil and cayenne in interesting combinations. You can order your coffee or tea drinks with almond, hemp or hazelnut milk. The cocktails might be slightly less nutritious, but Harlow still manages to slip in mint, ginger, apple and other good-for-you ingredients.
Harlow is a great addition to the Portland dining scene, and will feel like heaven for those who adhere to a gluten-free diet.
Read next >> Crafty Wonderland