sync your body's biorhythm back to nature
This is by far one of the most beautiful retreat sites we have ever visited. Gorgeous setting on a hillside, from where you can enjoy breathtaking views overlooking the Pacific Ocean. The area is so abundant with nature's blessings: butterflies, birds, flowers all around you. Best of all, they maintain the natural beauty of the jungle in its upkeep. So be aware, if you don't love hiking up and down very steep gravel paths (even by night) or hearing nature's sounds around you, this is not the place for you! Active adventurers and nature lovers: read on!
The open-air casitas demonstrate a wonderful balance of simplicity and luxury. The thatched-roof constructions blend perfectly into their environment, and the location has been wisely chosen. All of them offer magical views and lots of privacy. The en-suite bathrooms with outdoor showers are amazing. Picture yourself taking a shower while gazing at tropical birds in the trees right in front of you. Or lazing in your hammock and admiring the sun as it melts into the ocean during sunset.
Every single meal from the restaurant – made with fresh, local ingredients – is so healthy and flavorful. Most dishes are vegan, vegetarian and gluten-free. Seafood is also featured on the menu at times. At the bar near the spectacular saltwater infinity pool and jacuzzi, you can order a smoothie, ceviche or guacamole while sunbathing on the ocean-view deck. There is a private beach, a sweat lodge and a holistic center with highly professional massage therapists and energy workers.
In addition to these, there are two beautiful yoga-shala's with great views for sunrise and sunset. As there are no residential teachers, we joined a class given by an amazing teacher from San Diego who was leading a retreat here. Thank you for the wonderful class!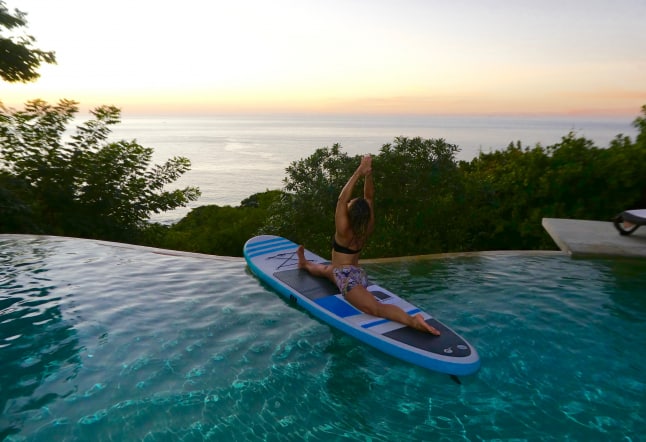 When we walked back from dinner in the darkness of the night, we truly enjoyed the starry sky. As there is no electricity, we had to light our casita with candles and oil lanterns. So romantic! When waking up to the crashing waves and the song of the wildlife around us, what could be farther from the everyday city life.
As you can tell, there really is no need to leave this tranquil oasis. But if you want to connect with the outside world, it is just a 3 km hike through the jungle to the surf village of Sayulita. A taxi costs around 100 pesos.
Although we were looking forward to doing a bit of reading and journaling during our solo-trip, we ended up really bonding with other retreat guests. This is the magic of these remote places without any phone lines, electricity or internet service. However, this is the perfect place to rest, restore and reflect on your busy life back home. This is one of those places on earth where you realize what is actually important in your life.
We have a deep gratitude for the wonderful staff who made us feel so welcome from the moment we arrived! We will never forget your smiles and the magic of this place.
Read next >> dosha music, change your life with sound healing