green age biogenics
Published: 01-03-2016 - Last Edited: 30-10-2022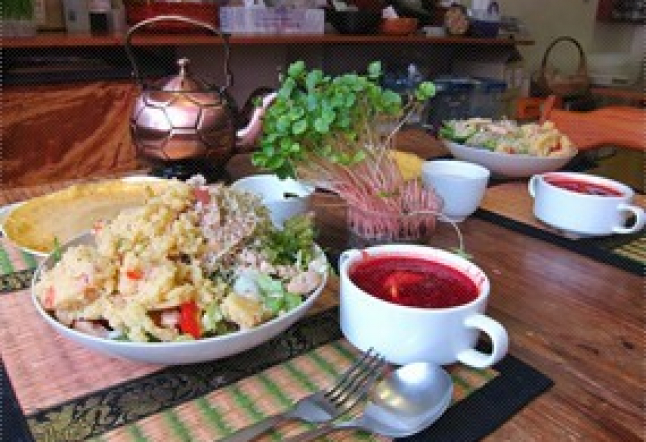 Vegan is still in vogue, if not the vogue. The sumptious meals that Green Age Biogenics offers is a fresh retreat from the nippy cold outside.
Overlooking the bustling street of Central, Green Age Biogenics has the best salads in town with its homegrown organic bread that is served alongside it. The restaurant offers an organic set lunch every Monday and Thursday at $75 which includes a soup, a salad, and a yogurt. The menu often varies as all lunch sets are designed and prepared by the shopkeeper Sze based on the fresh ingredients she got from their own farm in Yuen Long or the market that day. A soup made of beetroot, tomato, and pumpkin reenergizes the body with so much nutrients that it dwarfs something like a cleanse drink. The grand salad is a true combination of superfood that satisfies both your appetite and body. Apart from fresh veggies, dried fruit, beans, nutss and mashed potato with basil, there are often organic alfalfa, quinoa, and buckwheat sprouts mixed in the 100% healthy salad that gives you more than enough enzymes and proteins you need for a day. Having a cup of plain yogurt with muesli and dried fruit as dessert would be the best for a health-conscious sweet tooth.
Another signature item they offer is undoubtedly the fresh organic wheatgrass juice. You might not be a true fan of its taste, but it's always worth trying as wheatgrass flushes out the toxins in our bodies and helps with our digestion and blood circulation.
The restaurant is bedecked with reclaimed furniture, fair-trade supplies, and biodegradeable food containers that goes as green as the color itself can get. They also sell fresh veggies and organic farm products that come from their own farm. They have very few seats, so remember to call them to reserve your seats before going!
This simple living juxtaposes with the fast-paced hectic city outside, shielding the customers with not only vegan, gluten-free, and organic food choices, but it is also a break from the monotonous and dreary city life that urbanites get into on a daily basis.
Read next >> grassroot pantry