grassroot pantry
Published: 03-03-2016 - Last Edited: 30-10-2022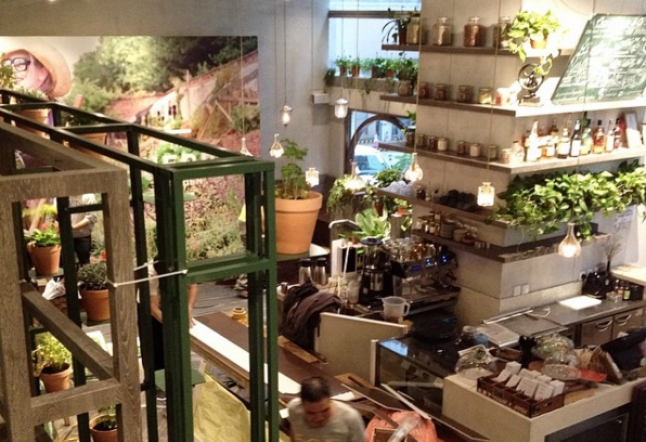 We could never get enough of organic, vegan-friendly places in Hong Kong. When I discovered Grassroot Pantry, tucked in a small alley in Say Ying Pun, I was pleased, as they offered not only nutritious but also creative and fun options for both vegans and vegetarians.
Founded by Chef/Owner Peggy Chan in May 2012, Grassroots Pantry has quickly become one of HK's favourite places for deliciously healthy cuisine, and when they opened another branch on Hollywood Road, I had another excuse to go there often, as it's three minutes away from my place.
As you enter the restaurant you'll be nicely surprised how green and spacious the place is. Their very attentive and knowledgable staff will be able to answer all your questions regarding the food, and recommend signature dishes and drinks.
I tried the palak paneer, beetroot gnochi and kep noodle salad the first time I went there, and all the dishes were absolutely delicious. Plus the mouth-watering gluten-free brownies added a perfect touch to the meal.
The only problem is that after you've been to Grassroot Pantry three times you've pretty much tried everything on the menu (not that I mind having the same again!), so a bit more options would be great, as variety is the key to never getting bored of eating veggies only. The menu does change though, and I've noticed they've recently added some new items.
What I love about this restaurant is the fact that they promote sourcing sustainable, organic and unprocessed ingredients. They prove that healthy eating doesn't mean you have to compromise in flavour, quite the opposite – isn't it much more fun when you enjoy the food that's good for you?
In addition, they offer healthy breakfast sets: anything from raw granola, acai bowls to free-range eggs. Also, a life-changing dicovery: golden tumeric milk, which I tried at Grassroot Pantry for the first time and have been making ever since before going to bed.
After you try Grassroot Pantry you might want to rethink your diet. This place might make you want to become a vegan, the food is THAT good.
Read next >> HKFYG Organic 21