grasslands
Published: 11-06-2014 - Last Edited: 03-11-2022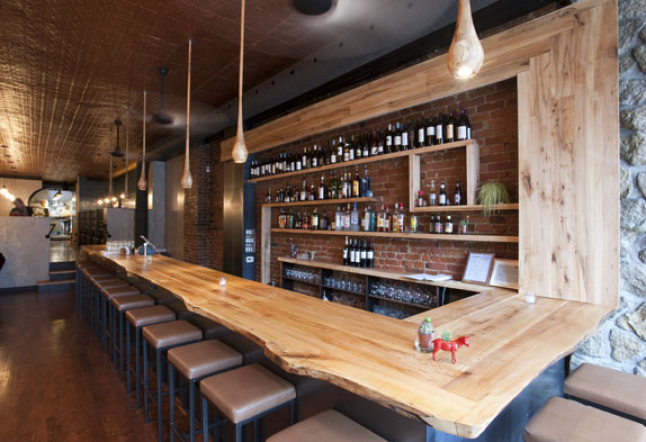 Grasslands is Toronto's go-to upscale vegan restaurant: a fine-dining experience for vegans looking for a nice date night restaurant. A chic atmosphere surrounds the place with tables and stools made from a tree trunk, lots of wood everywhere, and cool light bulbs.
Grasslands offers vegan dishes with a Northern Mediterranean fusion. This restaurant has delicious corn fritters as well a nice selection of bar snacks (think boneless "chicken wings," Belgian fries, and sliders). All food is labeled as "w" for wheat-free, "n" for nut-free, or "g" for gluten-free. And, of course, everything is yogi friendly and vegan! If you are thirsty, all kind of beverages and mocktails can be ordered.
For entrees, Grasslands offers meals such as fusilli with cashew cream sauce, rigatoni with herbed tomato sauce and spicy seitan sausage, skewers of charbroiled organic tempeh and tofu, and crusted chicken made out of seitan cutlet. The best part is that all entrees are served with maple scented yam mash, garlicky gui-lan, assorted seasonal vegetables, thyme roasted fingerling potatoes, and a mushroom red wine reduction. Delicious! If you have room after dinner, they do have a nice dessert selection!
If you are looking for a nice, meat-free night on the town or a place to take your special yogi, check out Grasslands. Call and make a reservation!
Read next >> live food bar