ganesha space
Published: 29-04-2015 - Last Edited: 30-10-2022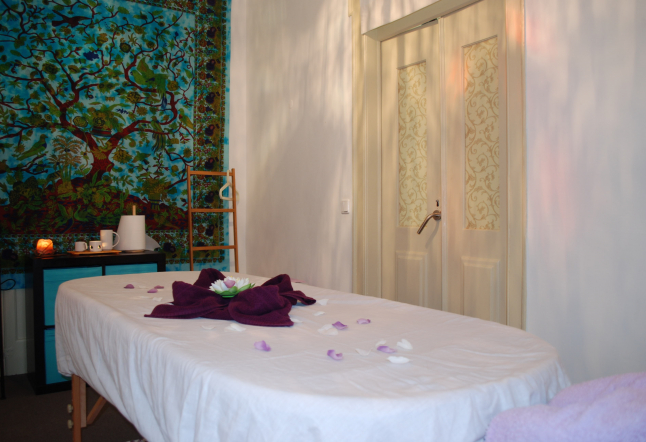 Sinda Costa was always fascinated with the orient and soon realised that the rivalries between the East and the West had no basis. Sure that Planet Earth should be seen and experienced as whole, today she is in charge of Ganesha and its bringing wellbeing to people's lives.
Among all natural therapies, it was Ayurvedic Medicine that piqued her curiosity. Ayurveda is considered the oldest medicine in the world, and views the human being as a whole: the body, mind and spirit work together in the search for enlightenment.
After graduating as an Ayurvedic Therapist with Professor Achyuta, through the Satya Ananda Association — Holistic Centre for Inner Awakening, certified by the Osho School in India, Sinda opened Ganesha in the heart of Lisbon, where she began sharing her knowledge. Speaking of her talents she says, "I have the ability to listen to those who come to me" in order to instinctively create a strong connection, knowing exactly how to reach those who need help.
Her small location became a space shared with many other therapists who, just like Sinda, live to help others. "We are beings who want to evolve, choosing the way of love and the way of caring about ourselves and others," she says. Today, Ganesha offers over 20 therapeutic and wellness activities, such as Hatha Yoga, Naturopathy, Reconnection, Reiki, Ginger Therapy, Osteopathy, Ayurvedic Massage and, most recently, Odissi Dance.
Together with a long list of activities, Ganesha has a special gift: "Everyone who enters here truly feels at home. Everyone is welcomed with maximum respect, and without any criticism or judgement about their choices", says Sinda. Ganesha is a place where everyone can find themselves and evolve into "a better, healthier person, through therapies or activities with which they identify the most at the time". This is her philosophy regarding the magic of the place.
Within Ganesha, therapists and clients share opinions, lifestyle, books to read, or simply drink a cup of tea and find their true selves, within the peaceful atmosphere. Outside, in a world where Sinda says "there's always rushing," it's necessary to "listen to our body more, because it talks to us, it alerts us".
And how can one connect more with this unconscious that talks to us? Sinda leaves no room for doubt: "have a bigger connection with nature, do more activities outside, eat seasonal fruits and vegetables, spend time with friends, communicate and don't lose physical contact" are some of the secrets.
Sinda says Portugal is a country that "has all the conditions for the development of alternative medicines and therapies: we are rich in medicinal plants and wonderful places for retreats and relaxation. We're on the right path, ever more open to this".
Still, Sinda remembers that we must take care of our origins, or the knowledge could disappear. "We are so glued to technology. It's time we regain awareness and the ability to touch and hug another human being". At least once a day.
Read next >> equilibrium spa and school