F.R.E.A.K café at green school
Published: 11-08-2013 - Last Edited: 24-10-2022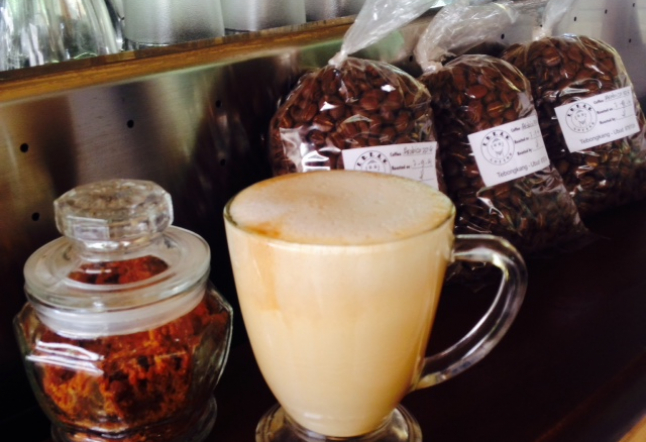 Most coffee sits in storage for an extremely long time after being roasted and grinded, losing potency as time passes. Despite the fact that Bali is growing some of the world's best coffee beans, many foreign tourists and expats find it difficult to spot a great cup of coffee. Look no further than F.R.E.A.K. Coffee at the Green School in Mambal. Indulge in the best cup of coffee in Bali.
Nyoman Wirata's family had been growing coffee in Kintamani (the central mountains of Bali) for many years, but when he met Asher Yaron, the potential of Wirata's beans reached an all-time high. Wirata and Asher have known each other for 17 years and recently became business partners. F.R.E.A.K. Coffee – Fresh Roasted Enak (delicious in Indonesian) Arabica from Kintamani – was born.
Asher brought experience in coffee roasting and brewing that he had practiced (creating excellent coffee brewed) in America as well as a wealth of knowledge to the partnership. Together, they began their science project of making the perfect cup of coffee. Asher adjusts the grind during the day to account for changes in the weather, but he insists that the most important part of the process is using freshly roasted beans. In addition to the coffee making, F.R.E.A.K. only uses natural coconut palm sugar, traditionally made and produced in Kintamani; the coconut's subtle sweetness complements the coffee's bitterness.
Asher and Wirata are working on inspiring other Kintamani farms to organically grow their coffee, offering to pay them a much higher price for their premium quality Arabica beans. Asher also has opened two locations in Bali where you can go and enjoy your healthy, freshly brewed cup of F.R.E.A.K. coffee. One location is in the striking and environmentally conscious Green School, where parents can enjoy their morning brew. Another location is a lovely and community-style café that has opened in Ubud.
For more info on Bali's best spots for the modern yogi STAY | SPA | PLAY | EAT | SHOP | YOGA – Download our ULTIMATE BALI GUIDE for free.
*A percentage of the profits from F.R.E.A.K coffee goes to community projects in the Kintamani region.
Read next >> Juice Ja Cafe – to be written