the floatworks
Published: 13-10-2017 - Last Edited: 16-11-2022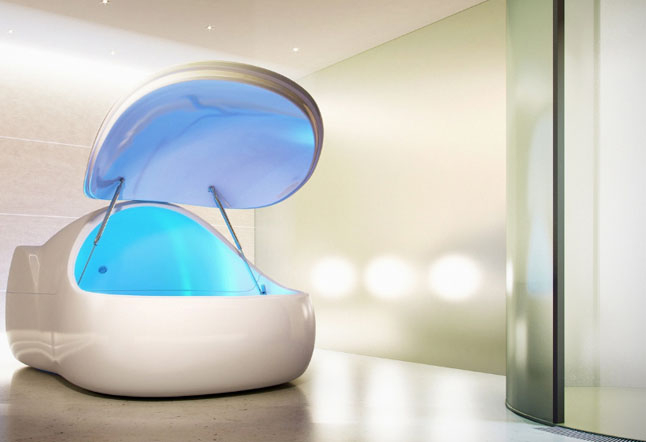 In 2016 Chris Plowman, co-founder of Floatworks, London left his life as a city banker and ventured off to establish a flotation centre in central London. This came about after experiencing his own healing effects of flotation following a painful back injury.
The physiological benefits of flotation are many, including: lowered blood pressure, faster healing and the relief of pain for common conditions such as fibromyalgia, arthritis or migraines.
The psychological benefits are equally as impressive as it aids in the release of dopamine and endorphins and can even induce a switch from beta to alpha brain wave emission.
The meditative effects of flotation are well known and research has shown that it leads to decreased levels of activity in the amygdala area of the brain, much the same as seen in other meditation practices such as the use of antidepressants.
At Floatworks, you get a spacious room to yourself, which houses both the flotation pod and a shower. The pod itself, although slightly sci-fiesque, is strangely inviting while emitting a pale warm pink light with gentle ocean sounds. You are given time to shower and make your way into the water at your own pace, at which point you close the lid, press a button to switch off the lights and begin your flotation session.
At first, the sensation of being totally suspended is a little alien; even when floating in still water we are not releasing the tension in all our muscles, especially the head and neck. It can take a while to fully relax and feel safe in the knowledge that the water will support your body as you let go, but once you do it feels incredible.
Flotation is designed to facilitate sensorial deprivation. You are wearing earplugs, all light is removed from the room and you are suspended as if in space. It is just you and your thoughts. WOW! This may sound daunting, but serves as a welcome break from the continuous stimulation of the outside world; a space to check in with yourself and re-centre.
The physical benefits of flotation become apparent as you float while you start to feel your muscles letting go- sometimes with a little bit of discomfort but nothing unpleasant.
After an hour in the pod, you feel refreshed (and a little dazed), akin to coming out of great yoga practice or meditation. If you are looking for some relaxation both physical and mental, book yourself into Floatworks London for some pod time!
To read more about the science behind flotation follow: Float Conference 2016.
Normal
0
false
false
false
EN-US
JA
X-NONE
/* Style Definitions */
table.MsoNormalTable
{mso-style-name:"Table Normal";
mso-tstyle-rowband-size:0;
mso-tstyle-colband-size:0;
mso-style-noshow:yes;
mso-style-priority:99;
mso-style-parent:"";
mso-padding-alt:0cm 5.4pt 0cm 5.4pt;
mso-para-margin:0cm;
mso-para-margin-bottom:.0001pt;
mso-pagination:widow-orphan;
font-size:12.0pt;
font-family:Cambria;
mso-ascii-font-family:Cambria;
mso-ascii-theme-font:minor-latin;
mso-hansi-font-family:Cambria;
mso-hansi-theme-font:minor-latin;
mso-ansi-language:EN-US;}
Read next >> Naturally Fun Parties For Kids